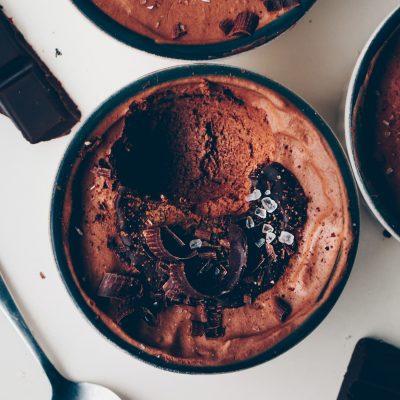 Vegan Chocolate Mousse
Prep: 20 Mins / Cook: 0 Mins

Serves 4

easy
Ingredients
* Switch between cup/oz and g/ml in Account Settings*
Aquafaba

Aquafaba

2 chickpea cans

2 chickpea cans

Powdered Sugar

Icing Sugar

30g

4 tbsp

Dark Chocolate

Dark Chocolate

130g

1 cup
Instructions
1.

*This mousse needs 80mins in the fridge before serving, so dont forget to factor that in!*

2.

Peel the side of a chocolate bar to create a small handful of chocolate shavings and set aside for later.

3.

Melt the remaining dark chocolate in a water bath.

4.

Meanwhile add the preservation water (aquafaba) of 2 cans of chickpeas to a food processor. Aquafaba is a great vegan baking substitute for eggs.

5.

Your food processor may come with several different processing blades. For this mousse we used the cream/whip blade to whip into a fluffy creamy texture.

6.

Blend the aquafaba for 1 minute, pause and then add the sugar. Blend for a further 7 minutes or so until the cream is super fluffy.

7.

Then pour the cream into a mixing bowl and slowly add the melted chocolate. Stir in a circular motion for 3 minutes to blend well.

8.

Pour the mousse into your ramekins and refrigerate for 20 minutes.

9.

Top your mousses with the chocolate shavings and a pinch of salt (optional).

10.

Refrigerate for a further hour before serving. Enjoy!
Nutritional Information
Calories:


227

Fat:


17g

Sodium:


11mg

Carbs:


17g

Sugar:


10g

Protein:


3g