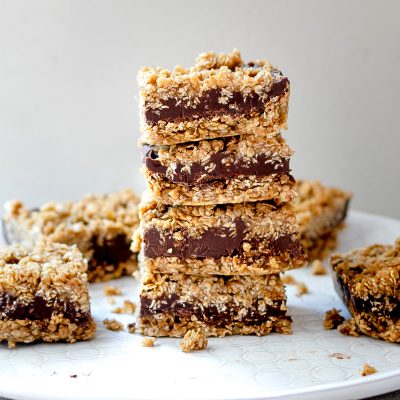 Chocolate Granola Bites
Prep: 0 Mins / Cook: 18 Mins

Serves 8

easy
These awesome granola bites are so easy to make requiring only 5 ingredients and 18 minutes to prepare. Our crunchy vegan bites are made from rolled oats and peanut butter with a delicious dark chocolate filling. And no baking required - we told you it was easy!
Gluten Free
Dairy Free
Under 30 mins
Ingredients
* Switch between cup/oz and g/ml in Account Settings*
Gluten Free Rolled Oats

Gluten Free Oats

250g

2 & 3/4 cups

Vegan Butter

Vegan Butter

200g

7/8 cup

Coconut Sugar

Coconut Sugar

80g

4/5 cup

Smooth Peanut Butter

Smooth Peanut Butter

100g

2/5 cup

Dark Chocolate

Dark Chocolate

130g

1 cup
Instructions
1.

*The flapjacks will need to chill for 2 hours before serving, so prepare ahead of serving.

2.

Melt vegan butter on medium heat and add coconut sugar once the butter has melted.

3.

Stir well and cook on simmer until the sugar has dissolved.

4.

In a big bowl mix together the oats and melted butter mixture, set aside.

5.

Bring water to a boil, cut chocolate into chunks and let it melt in a water bath (or put a glass bowl into hot water). Once melted, add peanut butter and stir well until everything is smooth and melted.

6.

Put a sheet of parchment paper into a loaf pan and add half the oat mixture to it. Press the oats down firmly with your fingers.

7.

Now pour the chocolate-peanut butter mixture over the oats and finish up by sprinkling the remaining oats on top of the chocolate layer.

8.

Freeze for 2 hours. Cut into 8 pieces and enjoy.
Nutritional Information
Calories:


504

Fat:


37g

Sodium:


335mg

Carbs:


38g

Sugar:


12g

Protein:


9g