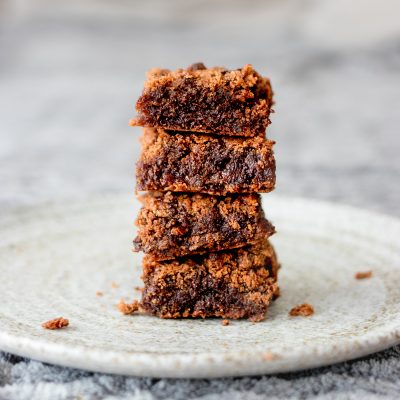 Chocolate Chip Blondies
Prep: 15 Mins / Cook: 20 Mins

Serves 8

easy
With a crunchy topping and a sweet, gooey center these chocolate chip blondies are so good! Even better, they're vegan and gluten free and will go down a storm with all your friends and family. Easy to prepare from only 8 ingredients, try them this week!
Gluten Free
Dairy Free
Ingredients
* Switch between cup/oz and g/ml in Account Settings*
Flax Egg:

Flaxseed Meal

Flaxseed Meal

1 tbsp

1 tbsp

Water

Water

3 tbsp

3 tbsp

Other:

Almond Butter

Almond Butter

80g

1/3 cup

Coconut Sugar

Coconut Sugar

50g

1/4 cup

Aquafaba

Aquafaba

3 tbsp

3 tbsp

Baking Soda

Bicarbonate of Soda

1/2 tsp

1/2 tsp

Dark Chocolate Chips

Dark Chocolate Chips

80g

1/2 cup

Table Salt

Table Salt

pinch

pinch
Instructions
1.

Add ingredients for the flax egg to a small bowl and let sit until gel consistency (about 3-5min).

2.

In a big bowl stir together all other ingredients except the aquafaba.

3.

Add the 3 tbsp aquafaba to a medium sized bowl and whisk until foamy (by hand whisking takes 4-5 min).

4.

Now add the flax egg to the almond-butter mixture, stir until well combined and then fold in the foamy aquafaba.

5.

Line a loaf pan (20cm) with parchment paper and add the batter to the tin, using a spoon or spatula.

6.

Spread evenly and bake for 15-20 min until top is golden.

7.

Allow to cool down completely (this step is important) before slicing and eating. The blondies will firm up the cooler they get.
Nutritional Information
Calories:


140

Fat:


8g

Sodium:


117mg

Carbs:


16g

Sugar:


13g

Protein:


2g