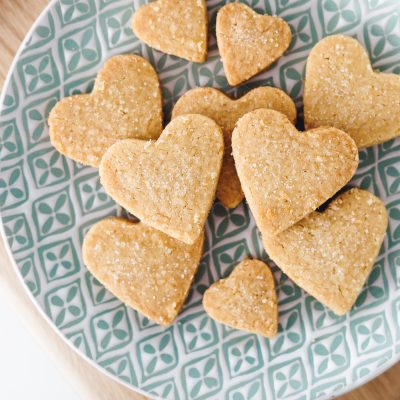 Vegan Shortbread Biscuits
Prep: 10 Mins / Cook: 15 Mins

Serves 12

easy
Golden, buttery sweet and crunchy to the bite - these gorgeous vegan shortbread biscuits satisfy everything we love about this traditional British teatime favorite. Made from plant-based butter, these irresistible cookies are dairy free and so easy to make - they are quick to bake and ready within 25 minutes!
Dairy Free
Under 30 mins
Ingredients
* Switch between cup/oz and g/ml in Account Settings*
Cake Wheat Flour

Cake Wheat Flour

120g

1 cup

Baking Powder

Baking Powder

1.5 tsp

1.5 tsp

White Sugar

White Sugar

70g

1/3 cup

Table Salt

Table Salt

pinch

pinch

Vegan Butter

Vegan Butter

115g

1/2 cup

Vanilla Extract

Vanilla Extract

1/2 tsp

1/2 tsp
Instructions
1.

Preheat oven to 180C.

2.

Add all ingredients to a Nutribullet and blend until it forms a smooth dough.

3.

Place dough on a lightly floured surface and roll out with a rolling pin until you reach desired thickness, cut out shapes with a cookie cutter and sprinkle with sugar.

4.

Place cookies on parchment lined baking tray and bake for 15min or until golden brown.

5.

Allow to cool completely before eating.
Nutritional Information
Calories:


128

Fat:


7g

Sodium:


117mg

Carbs:


14g

Sugar:


5g

Protein:


1g