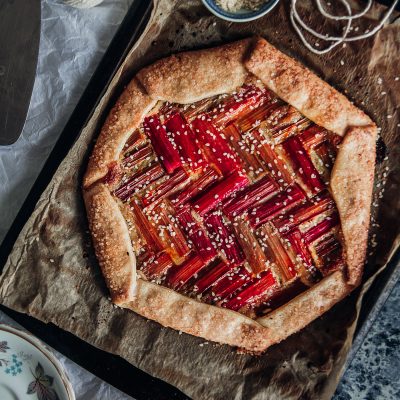 Vegan Rhubarb Galette
Prep: 50 Mins / Cook: 60 Mins

Serves 10

medium
This stunning rhubarb galette is THE perfect vegan tart to celebrate the start of the spring season, with radiant baked rhubarb and a gorgeously thick layer of sesame seed fangipane cream. A striking and delicious sweet pastry to spoil your family and friends!
Dairy Free
Ingredients
* Switch between cup/oz and g/ml in Account Settings*
Pastry:

All Purpose Flour

Plain Flour

150g

1 & 1/4 cups

Sea Salt

Sea Salt

1/4 tsp

1/4 tsp

Vegan Butter

Vegan Butter

115g

1/2 cup

Water

Water

3 tbsp ice cold

3 tbsp ice cold

Dark Rum

Dark Rum

1 tbsp

1 tbsp

Frangipane:

Sesame Seeds

Sesame Seeds

150g

1 cup

White Sugar

White Sugar

50g

1/4 cup

Rice Syrup

Rice Syrup

2 tbsp

2 tbsp

Vegan Butter

Vegan Butter

4 tbsp

4 tbsp

Aquafaba

Aquafaba

3 tbsp

3 tbsp

Sea Salt

Sea Salt

pinch

pinch

Rhubarb:

Rhubarb

Rhubarb

4 stalks

4 stalks

Blood Orange

Blood Orange

1

1

Demerara Sugar

Demerara Sugar

1 tbsp

1 tbsp

To finish:

Aquafaba

Aquafaba

1 tbsp

1 tbsp

Demerara Sugar

Demerara Sugar

2 tbsp

2 tbsp

Glaze:

Strawberry Jam

Strawberry Jam

1 tbsp

1 tbsp
Instructions
1.

*If you prefer, you can skip the 'pastry' step by using 1 sheet of store-bought shortcrust pastry.

2.

*you can also replace the dark rum with cold water, if you prefer the cake to be alcohol free.

3.

*if you can't find a blood orange, a regular navel orange will work well too.

4.

To make the pastry, cut the cold butter into the flour with a pastry blender, fork or food processor. You can also use your hands to rub the butter in and break it up. When the butter has formed small pea-sized crumbs, slowly pour the the ice-cold water and rum in, a spoonful at a time, until a shaggy dough is formed which holds its shape when you press it (if necessary, add a teeny bit of extra water but try to use as little additional water as possible). Form a ball, wrap in cling film and let it rest in the fridge for at least 2 hours.

5.

Make the frangipane by adding all the ingredients to a blender, or food processor, and blending until a smooth paste forms. Place this in a bowl and set in the fridge to chill as you prep the other elements of the galette.

6.

Chop each rhubarb into 1.5 inch batons, then again lengthwise into two halves. Place them in a bowl and add the zest of 1 blood orange, half of its juice, and sugar. Toss to coat well.

7.

Roll out your pastry into a large square, about ¼ inches thick. Use a pizza cutter or sharp knife to cut out a large circle, about 12-inches in diameter. Place this pastry circle on a parchment-lined baking tray.

8.

Spread out a thin layer of the frangipane on the pastry circle, don't spread the filling to the edge of the pastry, but leave about a 1½ inch border. Drain the rhubarb pieces (save 1 tbsp of the marinade for later) and arrange on top of the frangipane in a chevron pattern.

9.

Use the parchment to help fold the border up and over the edge of the rhubarb, pinching a seam at 2inch intervals. Chill for 30 min.

10.

A few minutes before the galette is done chilling, preheat the oven to 180C.

11.

Remove from the fridge, and brush the pastry rim with aquafaba, and sprinkle on the Demerara sugar. Bake for 50-60 minutes until golden and the rhubarb is glossy.

12.

In a small bowl, mix the jam for the glaze with 1 tablespoon of the reserved rhubarb marinade. Microwave until bubbly, then brush over the rhubarb once the pastry has cooled for about 20 minutes. You can also heat the glaze up in a small saucepan.

13.

Enjoy!
Nutritional Information
Calories:


252

Fat:


19g

Sodium:


213mg

Carbs:


18g

Sugar:


10g

Protein:


4g