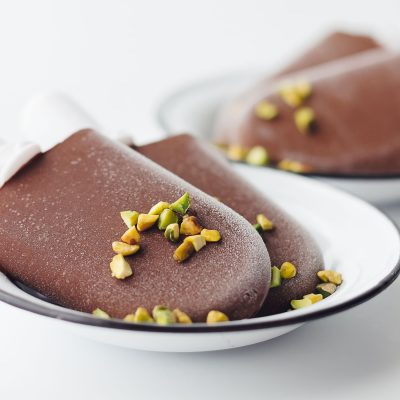 Vegan Chocolate Ice Pops
Prep: 15 Mins / Cook: 0 Mins

Serves 4

easy
Ingredients
* Switch between cup/oz and g/ml in Account Settings*
Almond Milk

Almond Milk

250ml

1 cup

Cocoa Powder

Cocoa Powder

25g

1/4 cup

Raw Honey

Raw Honey

2 tbsp

2 tbsp

Vanilla Extract

Vanilla Extract

1 tsp

1 tsp

Table Salt

Table Salt

pinch

pinch

Pistachio Nuts

Pistachio Nuts

1 tbsp

1 tbsp
Instructions
1.

Combine coconut milk, cocoa powder, 2 tbsp honey, 1 tsp vanilla and a pinch of salt in a medium sized mixing bowl and whisk until combined.

2.

Pour chocolate mixture into ice pop moulds and freeze according to manufacturer instructions.

3.

Once frozen, remove ice pops from moulds, dip in crushed nuts or seeds and enjoy immediately.
Nutritional Information
Calories:


97

Fat:


4g

Sodium:


78mg

Carbs:


15g

Sugar:


11g

Protein:


3g