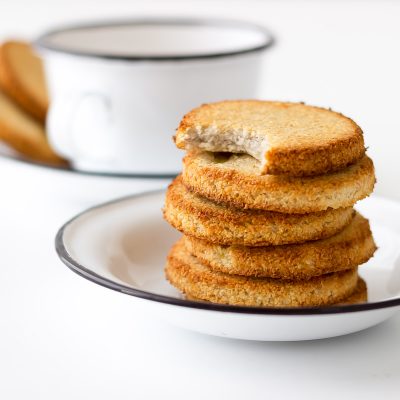 Two Ingredient Vegan Cookies
Prep: 10 Mins / Cook: 20 Mins

Serves 6

easy
Ingredients
* Switch between cup/oz and g/ml in Account Settings*
Banana

Banana

1

1

Dessicated Coconut

Dessicated Coconut

100g

1 cup
Instructions
1.

Preheat oven to 180c.

2.

Mash or blend banana and add to a medium mixing bowl, add coconut and stir to combine.

3.

Place mixture inbetween two sheets (or one folded) baking paper and roll to a height of 5mm to 1cm.

4.

Using a narrow round glass or cookie cutter, cut shapes into the 'dough'.

5.

Place cookies on a lined baking sheet and bake for 20min or until the edges are golden and cripsy (it will be soft and slightly mushy inside).

6.

Allow to cool for 10min and enjoy!
Nutritional Information
Calories:


448

Fat:


36g

Sodium:


25mg

Carbs:


30g

Sugar:


12g

Protein:


1g