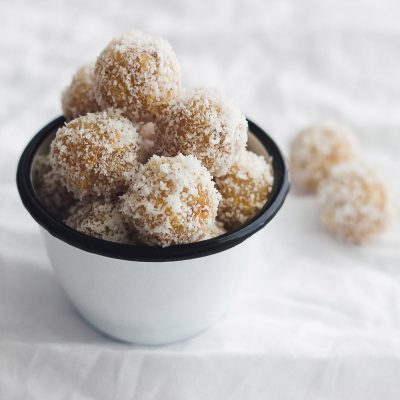 Toasted Coconut Almond Ladoo
Prep: 10 Mins / Cook: 10 Mins

Serves 10

easy
Ingredients
* Switch between cup/oz and g/ml in Account Settings*
Dessicated Coconut

Dessicated Coconut

100g

1 cup

Coconut Milk

Coconut Milk

250ml

1 cup

Cardamom Pods

Cardamom Pods

1 tsp

1 tsp

Coconut Sugar

Coconut Sugar

65g

1/3 cup

Table Salt

Table Salt

pinch

pinch

Almond Flakes

Almond Flakes

40g

1/2 cup
Instructions
1.

Toast dessicated coconut in a skillet over medium heat, stirring occasionally, until golden.

2.

Add coconut milk and crushed cardamom seeds and cook for an additional 2 to 3min.

3.

Add sugar and salt and cook for 15 to 20min until liquid is completely absorbed.

4.

While mixture is cooking, toast almond flakes in a pan over medium heat until golden brown, remove from heat and set aside.

5.

Remove coconut mixture from heat, add toasted almonds, and allow mixture to cool down enough to handle.

6.

Once cool, shape into balls, roll in dessicated coconut and refrigerate for a minimum of 30min before serving.
Nutritional Information
Calories:


231

Fat:


18g

Sodium:


20mg

Carbs:


12g

Sugar:


8g

Protein:


4g