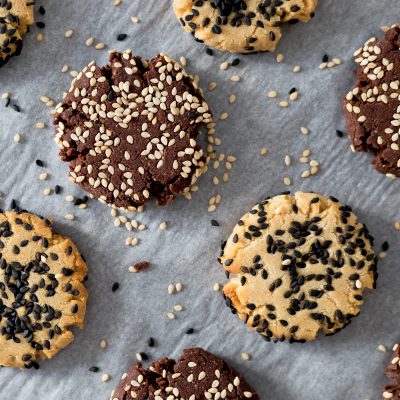 Tahini Cookies Two Ways
Prep: 15 Mins / Cook: 10 Mins

Serves 12

easy
Sweet and soft to the bite, our gorgeous gluten free cookies give you two options: plain or chocolate! Fortunately you can't go wrong! These oven-baked biscuits are flavored with tahini and maple syrup and topped with sesame seeds.
Gluten Free
Dairy Free
Low Carb
Under 30 mins
Ingredients
* Switch between cup/oz and g/ml in Account Settings*
Maple Syrup

Maple Syrup

80g

1/4 cup

Tahini

Tahini

55g

1/4 cup

Vanilla Extract

Vanilla Extract

1 tsp

1 tsp

Almond Meal

Almond Meal

30g

1/4 cup

Brown Rice Flour

Brown Rice Flour

90g

3/4 cup

Baking Powder

Baking Powder

1.5 tsp

1.5 tsp

Table Salt

Table Salt

1/8 tsp

1/8 tsp

Cacao Powder

Cacao Powder

2 tbsp

2 tbsp

Almond Milk

Almond Milk

60ml

1/4 cup

White Sesame Seeds

White Sesame Seeds

2 tbsp

2 tbsp

Black Sesame Seeds

Black Sesame Seeds

2 tbsp

2 tbsp
Instructions
1.

Preheat oven to 180ºC.

2.

Combine maple syrup, tahini and vanilla extract in a small mixing bowl and mix well until there are no more lumps.

3.

Combine flours and baking powder in a medium mixing bowl and whisk until combined.

4.

Divide flour mixture into two bowls, and add cacao powder to one bowl, whisking to combine.

5.

Divide tahini mixture between bowls, adding almond milk a tsp at a time (I usually add 2 tsp to the light mixture, and 4 tsp to the cacao mixture) and mix by hand until mixture becomes doughy, sticks together, and can easily be rolled into a ball without breaking.

6.

Prepare two plates for dough rolling, with white sesame seeds in one plate, and black sesame seeds in another.

7.

Divide light dough mixture into 6 even pieces, roll each piece into a ball and, one by one, roll each piece in the plate with black sesame seeds.

8.

Repeat steps with cacao dough, placing each piece onto the plate with white seame seeds.

9.

Place dough balls onto a prepared baking sheet, spacing it at least 3cm apart. Press each ball down with the bottom of a flat bottomed glass or measuring cup to form a round disc about 3 to 5mm thick.

10.

Bake for 10min until golden brown. Allow to cool on a wire rack before serving.
Nutritional Information
Calories:


186

Fat:


12g

Sodium:


122mg

Carbs:


16g

Sugar:


5g

Protein:


5g