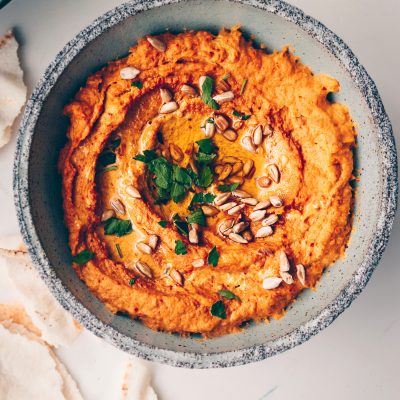 Sunny Carrot Dip
Prep: 10 Mins / Cook: 30 Mins

Serves 8

easy
Get a boost of vitamin A and C with this gorgeous carrot dip. Deliciously seasoned with tahini, harissa powder and paprika and topped with sunflower seeds and fresh parsley, this tasty vegan carrot dip is low carb and dairy free, making it a fantastic side to combine with your favorite bread or savory snacks!
Gluten Free
Dairy Free
Low Carb
Ingredients
* Switch between cup/oz and g/ml in Account Settings*
Carrot

Carrot

6

6

Sunflower Seeds

Sunflower Seeds

150g

1 cup

Olive Oil

Olive Oil

2 tbsp

2 tbsp

Tahini

Tahini

3 tbsp

3 tbsp

Harissa Powder

Harissa Powder

1 tsp

1 tsp

Paprika

Paprika

1 tsp

1 tsp

Table Salt

Table Salt

to taste

to taste

Fresh Parsley

Fresh Parsley

pinch

pinch
Instructions
1.

Preheat oven to 200C and add carrot slices together with 1 tbsp olive oil to a baking dish. Mix well with your hands, ensure none of the pieces are overlapping or touching and roast in the oven until carrots are soft.

2.

Once carrots are soft, take them out of the oven and allow to cool down while roasting sunflower seeds on the baking tray lined with parchment paper, also at 200C for 10-12min.

3.

They should have a nice smell and a slightly golden color when you take them out.

4.

Add carrots, sunflower seeds and all other ingredients to a high speed blender and blend until creamy and smooth (you will need to use the tamper tool that comes with the blender).

5.

Pour dip into bowl, top with a sprinkling of sunflower seeds and chopped parsley. Enjoy with bread or potato wedges.
Nutritional Information
Calories:


259

Fat:


22g

Sodium:


227mg

Carbs:


10g

Sugar:


3g

Protein:


8g