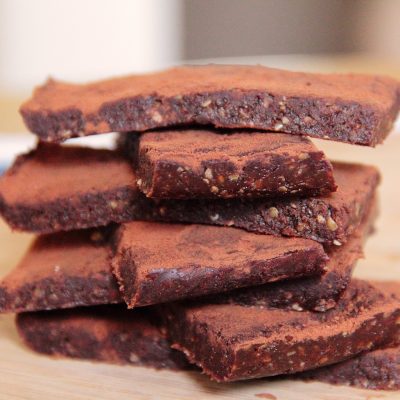 Raw Cocoa and Ginger Brownies
Prep: 10 Mins / Cook: 0 Mins

Serves 12

easy
These rich, sweet and deliciously nutty chocolate brownies are so quick and easy to make requiring only 5 ingredients and 10 minutes of prep! Sweetened with dates and a hint of ginger for a subtle spicy kick, this gorgeous vegan brownie recipe is also gluten free and sugar free!
Gluten Free
Dairy Free
Low Carb
Under 30 mins
Ingredients
* Switch between cup/oz and g/ml in Account Settings*
Pitted Dates

Pitted Dates

200g

1 & 1/6 cups

Milled Flaxseed

Milled Flaxseed

2 tbsp

2 tbsp

Tahini

Tahini

2 tbsp

2 tbsp

Ginger Root

Ginger Root

4cm piece

4cm piece

Cocoa Powder

Cocoa Powder

2 tbsp

2 tbsp

Dusting:

Cocoa Powder

Cocoa Powder

pinch

pinch
Instructions
1.

*Timing tip: The brownies should cool in the fridge for at least 2 hrs before serving.

2.

Add all of the ingredients together into a high-powered food processor and blend until combined.

3.

In a small baking tray, dust the bottom with a light layer of cocoa powder. Press the brownie mix into the tray – you can level it out and get rid of your thumbprints by rolling a cup across the top.

4.

Dust the top with another light coating of cocoa powder. Place in the fridge and when you are ready to eat it, slice into bars.

5.

*Did you know that, as an anti-inflammatory, ginger can help you to keep your smile healthy by supporting healthy mouth tissue? Yet one more reason to tuck in!
Nutritional Information
Calories:


78

Fat:


2g

Sodium:


1mg

Carbs:


13g

Sugar:


11g

Protein:


1g