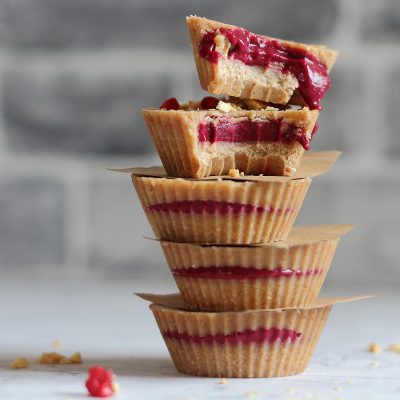 Peanut Butter Fudge Cupcakes
Prep: 20 Mins / Cook: 0 Mins

Serves 6

easy
Raw and gluten free cupcakes, consisting of a decadent peanut cacao butter fudge base with a strawberry and chia gooey centre. Yum! If today is that day, please try these decadent treats! A fine addition to your free meal plan, right!?
Gluten Free
Dairy Free
Low Carb
Under 30 mins
Ingredients
* Switch between cup/oz and g/ml in Account Settings*
Jelly filling:

Strawberries

Strawberries

75g

1/2 cup

Chia Seeds

Chia Seeds

3 tbsp

3 tbsp

Maple Syrup

Maple Syrup

3 tbsp

3 tbsp

Beetroot Powder

Beetroot Powder

1 tbsp

1 tbsp

Lime Juice

Lime Juice

2 tbsp

2 tbsp

Fudge:

Cacao Butter

Cacao Butter

230g

1 cup

Peanut Butter

Peanut Butter

250g

1 cup

Brown Rice Syrup

Brown Rice Syrup

2 tbsp

2 tbsp

Sea Salt

Sea Salt

1/4 tsp

1/4 tsp
Instructions
1.

*Timing tip: prepare this recipe in advance as the cupcakes will need to chill for at least 2 hours before serving.

2.

Firstly prepare the jelly filling by blending the strawberries, maple syrup, beetroot powder and lime into a juice.

3.

Place the juice in a jar, add the chia seeds and stir well. Let the mixture sit in the fridge for at least 30 minutes (ideally an hour or so).

4.

Remove the mixture from the fridge and place back in your blender on high speed until completely smooth (about 5 minutes or so). The chia seeds should not be visible and should be completely incorporated to forming a thick, shiny jelly.

5.

Set the jelly aside in the fridge.

6.

For the fudge you can either make one big block of fudge, or use individual bun cases (silicone cases work best).

7.

Begin preparing the fudge by sitting a large bowl with the cacao butter in it on top of a saucepan with simmering water. You should never apply direct heat to the bowl.

8.

Once melted remove from the heat and add the remaining ingredients.

9.

Pour half of the mixture into the bun cases. Place the remaining fudge back over the simmering water to prevent it from hardening.

10.

Put the bun cases in the freezer for 5 minutes to set the bottom layer.

11.

Remove from the freezer and add a tbsp of the strawberry jelly on top of each bun case.

12.

Evenly distribute the remaining fudge on top of each bun case.

13.

Set in the freezer for 2 hours.

14.

These fudge cups can be stored in an airtight container in the fridge for up to a week, or in the freezer for longer.
Nutritional Information
Calories:


378

Fat:


48g

Sodium:


194mg

Carbs:


17g

Sugar:


8g

Protein:


5g