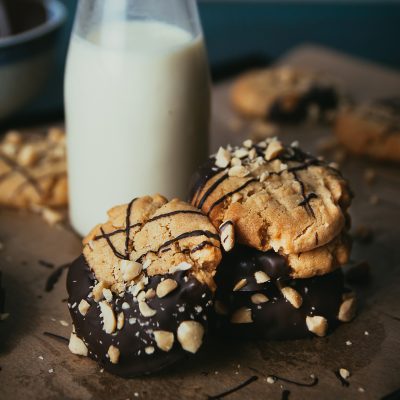 Peanut Butter Cookies with Chocolate Drizzle
Prep: 15 Mins / Cook: 15 Mins

Serves 12

medium
Little intense vegan peanut butter cookies drenched in a dark chocolate drizzle. Our chunky american cookies make the perfect accompaniment to your afternoon coffee or late night fridge raid!
Dairy Free
Ingredients
* Switch between cup/oz and g/ml in Account Settings*
All Purpose Flour

Plain Flour

200g

1 & 3/4 cups

Baking Soda

Bicarbonate of Soda

1 tsp

1 tsp

Baking Powder

Baking Powder

1/2 tsp

1/2 tsp

Table Salt

Table Salt

1/4 tsp

1/4 tsp

Vegan Butter

Vegan Butter

115g

1/2 cup

Cane Sugar

Cane Sugar

100g

1/2 cup

Brown Sugar

Brown Sugar

100g

1/2 cup

Vanilla Extract

Vanilla Extract

1/2 tsp

1/2 tsp

Crunchy Peanut Butter

Crunchy Peanut Butter

125g

1 cup

Soy Milk

Soya Milk

60ml

1/4 cup

Dark Chocolate

Dark Chocolate

100g

3/4 cup

Roasted Peanuts

Roasted Peanuts

40g

1/4 cup
Instructions
1.

*This recipe makes 24 cookies ;)

2.

Line a cookie sheet with parchment or Silpat.

3.

In a bowl, mix together the flour, baking soda, baking powder, and salt. Set this aside for now.

4.

In a large bowl, cream together the vegan butter, sugars, and vanilla until fluffy. Pour in the peanut butter and soy milk, and stir it in well.

5.

Add ½ of the dry mixture and mix this in completely. Next, add the remaining flour mixture and stir until completely combined.

6.

If you prefer your cookies to be small and thick, chill the dough in the fridge for about 30 min. If you like your cookies thinner and are okay if they spread in the oven, you can skip this step.

7.

Roll out small dough balls (about 2 tablespoons of dough) and place it on the prepared cookie sheet. Use a fork to cross-hatch them, pressing down very slightly as you don't want them to be too thin before baking.

8.

Bake for 15-18 minutes, until golden and fragrant. Let them cool completely before handling them, as they are quite soft when just out of the oven.

9.

Meanwhile, microwave the chocolate in a bowl in 30-second intervals until melted.

10.

When the cookies are cool, dip an edge in the chocolate, and drizzle more over the top. Sprinkle with crushed peanuts before the chocolate sets.

11.

Enjoy!

12.

*Note: If your peanut butter is quite thick, microwave it or heat it up so it's pourable and easier to stir into the batter.
Nutritional Information
Calories:


236

Fat:


11g

Sodium:


105mg

Carbs:


32g

Sugar:


19g

Protein:


3g