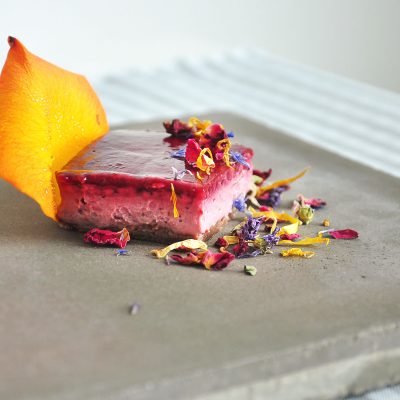 Mixed Berry Cheesecake
Prep: 20 Mins / Cook: 10 Mins

Serves 6

easy
Quick to prepare, vegan and gluten free, this raw mixed berry cheesecake is a surefire crowd pleaser! A rich biscuit base of pitted dates, coconut and chocolate cookies is topped with an agave sweetened raspberry and strawberry layer. Try out our delicious raw dessert in your personal vegan meal plan this week!
Gluten Free
Dairy Free
Under 30 mins
Ingredients
* Switch between cup/oz and g/ml in Account Settings*
Biscuit:

Vegan Chocolate Cookies

Vegan Chocolate Cookies

50g

1/2 cup

Pitted Dates

Pitted Dates

90g

1/2 cup

Coconut Oil

Coconut Oil

1 tbsp

1 tbsp

Coconut Flakes

Coconut Flakes

20g

1/4 cup

Jelly:

Strawberries

Strawberries

200g

1 & 1/3 cups

Raspberries

Raspberries

100g

2/3 cups

Agave Nectar

Agave Nectar

1 tbsp

1 tbsp

Agar Agar Powder

Agar Agar Powder

1 tsp

1 tsp

Coconut Milk

Coconut Milk

400ml

1 & 3/5 cups
Instructions
1.

*Note: Keep a can of coconut milk in the fridge the night before cooking.*

2.

To make the biscuit: Chop the dates into small pieces. Put the chopped dates into a blender along with the cookies, coconut oil and coconut flakes. Blend for approx. 30 seconds until you get a sticky dough. Line a small cake tray and add the mixture, spreading it out to fill the bottom of the cake tray. Then place in the fridge to cool.

3.

Jelly: wash the strawberries and raspberries then add to a small saucepan. Use a hand emulsifier to break down the fruits for cooking. Add 70ml of water and the agar agar powder to the pot and cook on a stove for 5-6 minutes.

4.

Cream: While it cooks, take out the coconut milk from the fridge. Refridgerating the coconut milk separates the coconut cream from the water inside the can. We just want to use the creamy part. By now the jelly mixture should have cooked. Now find a small bowl and pour in the coconut cream and ¾ of the jelly mixture, set the remaining 25% to one side. Mix the coconut cream and jelly and now add this layer to the cake tray, try to leave a nice even surface. Place in the fridge to cool for 10 minutes.

5.

Now add the final layer of fruit jelly to the cake tray. Store in the fridge for at least 4 hours, cut into chunky wedges and serve with some pretty leaves (optional!).
Nutritional Information
Calories:


152

Fat:


7g

Sodium:


11mg

Carbs:


21g

Sugar:


15g

Protein:


1g