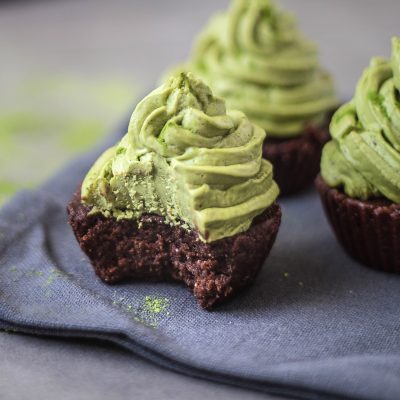 Matcha Frosted Brownies
Prep: 30 Mins / Cook: 10 Mins

Serves 8

easy
Vegan, gluten free, decadently sweet and packed with matcha powder and cashew butter. Yum! Rich in flavor and protein too - please line up in an orderly queue.
Gluten Free
Dairy Free
High Protein
Ingredients
* Switch between cup/oz and g/ml in Account Settings*
Brownie Base:

Walnuts

Walnuts

250g

2 cups

Pitted Medjool Dates

Pitted Medjool Dates

175g

1 cup

Cacao Powder

Cacao Powder

35g

1/3 cup

Himalayan Salt

Himalayan Salt

1/4 tsp

1/4 tsp

Vanilla Powder

Vanilla Powder

1/4 tsp

1/4 tsp

Cashew Butter

Cashew Butter

1 tbsp

1 tbsp

Matcha Frosting:

Coconut Milk

Coconut Milk

375ml

1 & 1/2 cups

Cashew Butter

Cashew Butter

130g

1/2 cup

Maple Syrup

Maple Syrup

4 tbsp

4 tbsp

Matcha Powder

Matcha Powder

1 tbsp

1 tbsp

Vanilla Powder

Vanilla Powder

1 tsp

1 tsp

Coconut Oil

Coconut Oil

2 tbsp

2 tbsp
Instructions
1.

*You will need a piping bag and nozzle and this recipe makes 8-10 cupcake cases, silicone cupcake moulds work really well.

2.

To make the brownies add the walnuts to your food processor and blitz until they form a fine crumb.

3.

Add in the remaining ingredients and continue to process until the mixture comes together to form a brownie dough.

4.

Separate the mixture out into the number of cupcake cases you wish to use. Press the mixture down firmly using your fingers or a spoon.

5.

Place the brownies into the fridge whilst you prepare the frosting.

6.

For the frosting, combine all the ingredients apart from the coconut oil in a high speed blender or nutri-bullet – by the way I only use the hard part of the canned coconut milk. Blitz until the mixture is smooth and creamy.

7.

Add the coconut oil and blitz again until the mixture is completely combined and smooth. Transfer the frosting to a metal bowl and place in the freezer for 5-10 minutes. Remove from the freezer and stir well with a fork to break up any lumps. The mixture will have thickened to a creamy consistency, if not place back in the freezer for another 5 minutes and repeat.

8.

Transfer the matcha frosting to your piping bag and pipe the mixture on top of the brownies.

9.

These cupcakes store well in the fridge in an airtight container.
Nutritional Information
Calories:


511

Fat:


40g

Sodium:


84mg

Carbs:


37g

Sugar:


22g

Protein:


10g