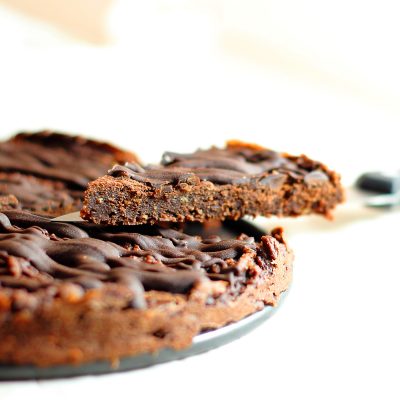 Kidney Bean Brownies
Prep: 15 Mins / Cook: 45 Mins

Serves 12

easy
These vegan chocolate and kidney bean brownies are the perfect sweet snack without racking up the calories as they are irresistibly tasty yet low in sugar and carbs! The cocoa and kidney bean filling provides a rich, fudge center as well as a sneaky protein kick while the melted chocolate topping will delight any chocoholic! Dairy free and a breeze to make!
Dairy Free
Low Carb
Ingredients
* Switch between cup/oz and g/ml in Account Settings*
Kidney Beans in Water

Kidney Beans in Water

220g

1 & 1/4 cups

Vegan Margarine

Vegan Margarine

100g

6.5 tbsp

Muscovado Sugar

Muscovado Sugar

50g

1/4 cup

Liquid Coffee

Liquid Coffee

1 tbsp

1 tbsp

Vanilla Bean Paste

Vanilla Bean Paste

1 tsp

1 tsp

Self Raising Flour

Self Raising Flour

120g

1 cup

Cocoa Powder

Cocoa Powder

4 tbsp

4 tbsp

Topping:

Vegan Dark Chocolate

Vegan Dark Chocolate

50g

2/5 cup

Flax Egg:

Ground Flaxseed

Ground Flaxseed

3 tbsp

3 tbsp

Water

Water

9 tbsp

9 tbsp
Instructions
1.

Preheat the oven to 180C / Gas Mark 4 / 350F.

2.

Place the kidney beans in a food processor and blend until smooth.

3.

Make 3 'flax eggs' – one flax egg is 1 tbsp of ground flaxseed mixed well with 3 tbsp of water.

4.

In a large bowl, mix the dairy-free margarine and sugar together until smooth. Stir in the flax eggs, coffee and vanilla bean paste, followed by the kidney beans.

5.

Add the flour and cocoa powder to a separate bowl. Use a sieve to sift and add. bit by bit, to the kidney bean mix. Fold as you go, being careful not to overmix the batter.

6.

Grease a large cake tin or tray and pour in the mixture. Place in the oven and bake for around 45 minutes.

7.

Allow the brownies to cool, then prepare a bowl placed over a pan with around 3cm deep simmering water (any deeper and you risk it getting too hot or bubbling up the side). Break up the dark chocolate, add to the bowl and stir until fully melted and smooth. Use a fork to drizzle over the top of the brownies.

8.

Slice and serve!
Nutritional Information
Calories:


164

Fat:


10g

Sodium:


19mg

Carbs:


15g

Sugar:


6g

Protein:


4g