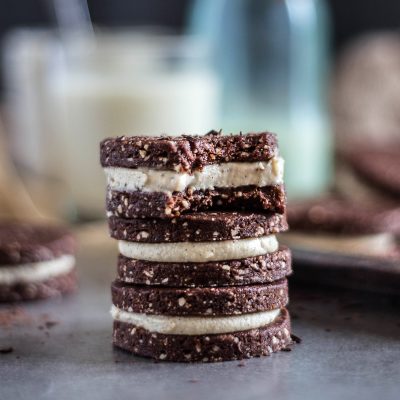 Healthy Homemade Oreos
Prep: 40 Mins / Cook: 0 Mins

Serves 12

easy
Make your very own delicious homemade oreos with this easy no bake recipe! Our awesome raw, vegan oreo cookies are refined sugar free, gluten free and loaded with delicious natural ingredients. A creamy filling consists of cashew nuts, maple syrup and coconut milk, sandwiched by the oreo biscuits made from medjool dates, mixed nuts and cocoa powder. Yum!
Gluten Free
Dairy Free
Low Carb
Ingredients
* Switch between cup/oz and g/ml in Account Settings*
Cookie:

Cashew Nuts

Cashew Nuts

125g

1 cup

Blanched Almonds

Blanched Almonds

70g

1/2 cup

Pitted Medjool Dates

Pitted Medjool Dates

220g

1 & 1/4 cups

Cocoa Powder

Cocoa Powder

35g

1/3 cup

Himalayan Salt

Himalayan Salt

1/2 tsp

1/2 tsp

Coconut Flour

Coconut Flour

30g

1/4 cup

Filling:

Cashew Nuts

Cashew Nuts

125g

1 cup

Coconut Milk

Coconut Milk

2 tbsp

2 tbsp

Maple Syrup

Maple Syrup

3 tbsp

3 tbsp

Vanilla Powder

Vanilla Powder

1 tsp

1 tsp

Coconut Oil

Coconut Oil

2 tbsp

2 tbsp
Instructions
1.

*Note: you will need a cookie cutter! This recipe will make 10-12 cookies.

2.

*Timing tip: the cookies will need to chill in the freezer for at least 30mins before serving.

3.

To make the cookies, add the cashews and almonds to your food processor and blitz until they form a fine crumb.

4.

Add the remaining base ingredients and continue to blitz until combined. The mixture should form a dough consistency when you press it together between your fingers.

5.

Line your work surface with parchment paper and roll out the dough to about 1cm thick.

6.

Cut out an even amount of circles with a cookie cutter and lay these out on a tray lined with the parchment paper.

7.

Set the cookies aside in the fridge.

8.

To prepare the filling, add all the ingredients apart from the coconut oil to your blender.

9.

Blitz until completely smooth and creamy (This may take several minutes, be patient!).

10.

Finally add the coconut oil to the mixture and continue blending for another 30 seconds to combine the mixture.

11.

Add 1 heaped teaspoon of the mixture to half of the cookies.

12.

Place the cookies in the freezer for about 30 minutes to help the filling to set.

13.

Remove from the freezer and sandwich the cookies, placing the plain side on top of the cookie with the filling.

14.

These cookies will store well in the fridge in an airtight container.
Nutritional Information
Calories:


257

Fat:


6g

Sodium:


101mg

Carbs:


19g

Sugar:


15g

Protein:


2g