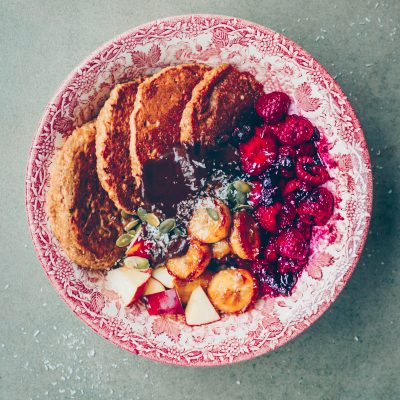 Healthy Gluten Free Pancakes
Prep: 30 Mins / Cook: 15 Mins

Serves 6

easy
Moreish pancakes that will hit the spot and go perfectly with your favorite seasonal fruits. Our light and fluffy pancakes flip the script as they are low in fat and calories too! To keep our healthy pancakes dairy and gluten free we combine oats, brown rice flour, banana and aquafaba to create an irresistibly tasty batter.
Gluten Free
Dairy Free
Ingredients
* Switch between cup/oz and g/ml in Account Settings*
Gluten Free Oat Flakes

Gluten Free Oat Flakes

120g

1 & 1/3 cups

Brown Rice Flour

Brown Rice Flour

80g

2/3 cup

Coconut Sugar

Coconut Sugar

50g

1/4 cup

Banana

Banana

2

2

Aquafaba

Aquafaba

3 tbsp

3 tbsp

Baking Powder

Baking Powder

1 tbsp

1 tbsp

Baking Soda

Bicarbonate of Soda

1 tsp

1 tsp

Almond Milk

Almond Milk

80ml

1/3 cup

Coconut Oil

Coconut Oil

1 tbsp

1 tbsp
Instructions
1.

In a medium bowl add aquafaba and beat with a handmixer until foamy (takes 4-5 min).

2.

Ground oats in a food processor, add all dry ingredients to a bowl and stir well.

3.

Mash bananas in another bowl, add almond milk and mix until smooth.

4.

Fold in the foamy aquafaba.

5.

Pour wet mixture into dry mixture, mix until combined and allow to sit for 15-20 min.

6.

Heat up a non-sticking frying pan on high heat and add coconut oil.

7.

Add 1.5 tbsp of batter to the pan for each pancake, cook until golden brown on both sides.
Nutritional Information
Calories:


231

Fat:


5g

Sodium:


266mg

Carbs:


45g

Sugar:


17g

Protein:


4g