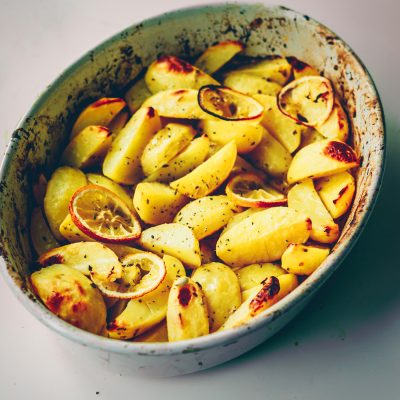 Greek Lemon Potatoes
Prep: 15 Mins / Cook: 100 Mins

Serves 4

easy
Crispy, golden greek potatoes in a irresistible herb lemon and oregano dressing. Gluten free and a breeze to prepare, it's a great appetizer for your meal planner!
Gluten Free
Dairy Free
Ingredients
* Switch between cup/oz and g/ml in Account Settings*
White Potatoes

White Potatoes

6

6

Lemon

Lemon

2

2

Olive Oil

Olive Oil

150ml

3/5 cup

Garlic Powder

Garlic Powder

1 tbsp

1 tbsp

Dried Oregano

Dried Oregano

1 tbsp

1 tbsp

Mustard

Mustard

1 tsp

1 tsp

Sea Salt

Sea Salt

pinch

pinch
Instructions
1.

Preheat oven to 220C.

2.

Peel potatoes and cut them into wedges. Slice the lemon into fine slices.

3.

Add potatoes to a deep baking dish and add balance of ingredients. Mix everything with your hands and roast on the middle rack of the oven for 1 hour.

4.

After an hour remove potatoes, use a spoon to move potatoes around and roast for another 30-40 min or until soft.
Nutritional Information
Calories:


591

Fat:


35g

Sodium:


423mg

Carbs:


68g

Sugar:


3g

Protein:


8g