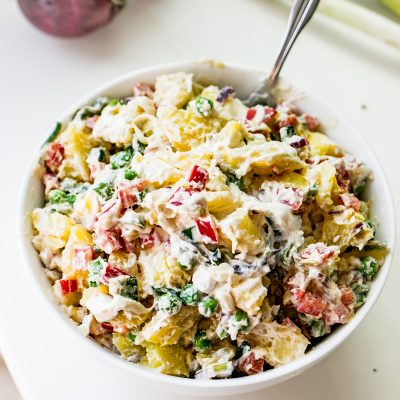 Easy Potato Salad
Prep: 10 Mins / Cook: 0 Mins

Serves 3

easy
Ingredients
* Switch between cup/oz and g/ml in Account Settings*
Medium Potatoes

Medium Potatoes

1200g

8 cups

Cashew Nuts

Cashew Nuts

150g

1 & 1/5 cups

Red Onion

Red Onion

1

1

Green Peas

Green Peas

100g

2/3 cup

Red Bell Pepper

Red Bell Pepper

1

1

Spring Onion

Spring Onion

2

2

Lemon

Lemon

1

1

Mustard

Mustard

1 tbsp

1 tbsp

Water

Water

100ml

2/5 cup

Nutritional Yeast

Nutritional Yeast

1 tbsp

1 tbsp

Table Salt

Table Salt

to taste

to taste

Ground Black Pepper

Ground Black Pepper

to taste

to taste
Instructions
1.

*Timing tips: cook potatoes a day ahead before making the salad. Also pre-soak the cashew nuts for at least 6 hours. Once prepared, cool the potato salad in the fridge for an hour before serving.

2.

Chop spring onions and red onion finely.

3.

Slice red bell pepper into small cubes, cut the cooked potatoes into eights. Throw all veggies to a big bowl.

4.

For the mayonnaise add the presoaked and drained cashews, mustard, nutritional yeast, lemon juice, water, salt and pepper to a food processor and blend on high speed until creamy and smooth.

5.

Add mayo to the bowl and combine well. Don't over mix or the potatoes will get too mushy.

6.

Season again with salt and pepper if preferred. Let sit in the fridge for an hour before eating.
Nutritional Information
Calories:


619

Fat:


1g

Sodium:


215mg

Carbs:


71g

Sugar:


6g

Protein:


10g