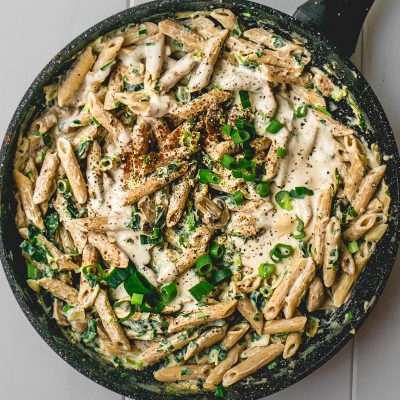 Creamy Cashew and Mushroom Pasta
Prep: 0 Mins / Cook: 30 Mins

Serves 4

easy
A richly comforting gluten free mushroom pasta with an irresistible cashew nut cream sauce. The creamy white vegan sauce combines perfectly with the button mushrooms, fresh chives and balsamic dressing. And so quick and simple to rustle up!
Gluten Free
Dairy Free
High Protein
Ingredients
* Switch between cup/oz and g/ml in Account Settings*
Brown Rice Penne

Brown Rice Penne

500g

5 cups

Cashew Nuts

Cashew Nuts

100g

4/5 cup

White Button Mushrooms

White Button Mushrooms

500g

6 & 2/3 cups

Vegetable Stock

Vegetable Stock

400ml

1 & 3/5 cups

Garlic

Garlic

1 clove

1 clove

Small Onions

Small Onions

2

2

Fresh Parsley

Fresh Parsley

8g

1/3 cup

Fresh Chives

Fresh Chives

16g

1/3 cup

Creamy Balsamic Dressing

Creamy Balsamic Dressing

1/2 tsp

1/2 tsp

Olive Oil

Olive Oil

2 tbsp

2 tbsp

Ground Black Pepper

Ground Black Pepper

1/4 tsp

1/4 tsp
Instructions
1.

*Timing tip: Presoak cashews in advance, for a minimum of 4hrs.

2.

Cook penne according to packet instructions, meanwhile prepare the sauce.

3.

Heat up a medium size frying pan on high heat and add 1 tbsp olive oil.

4.

Once olive oil has heated up, add sliced mushrooms and fry until golden brown (you may have to remove the mushroom water a spoonful at a time to allow the mushrooms to brown properly).

5.

Remove fried mushrooms and set aside on a plate.

6.

In a high speed blender blend presoaked cashews and vegetable stock for 2-3min until smooth.

7.

Add 1 tbsp olive oil to the frying pan, fry diced onions and minced garlic until onion is translucent. Now pour in the cashew cream, add balsamic, chopped herbs and mushrooms.

8.

Once the penne is al dente, add the penne to the pan and stir well.

9.

Add balsamic, season with black pepper, stir to combine and enjoy.
Nutritional Information
Calories:


712

Fat:


18g

Sodium:


177mg

Carbs:


74g

Sugar:


13g

Protein:


21g