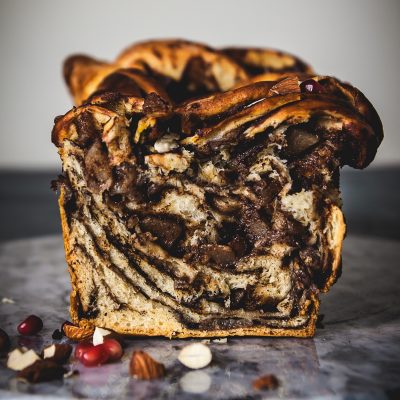 Chocolate Babka with Caramelised Pears
Prep: 140 Mins / Cook: 60 Mins

Serves 12

difficult
Here we have the ultimate vegan chocolate babka! Threaded with swirling chocolate and succulent morsels of cinnamon-spiced pears, it makes the perfect partner to an afternoon cup of coffee or tea. This vegan version of an eastern European classic really hits the spot. We hope you savor it before it vanishes!
Dairy Free
Ingredients
* Switch between cup/oz and g/ml in Account Settings*
Dough:

Water

Water

125ml

1/2 cup

Active Dry Yeast

Active Dry Yeast

2.5 tsp

2.5 tsp

Coconut Milk

Coconut Milk

60ml

1/4 cup

Aquafaba

Aquafaba

60ml

1/4 cup

White Sugar

White Sugar

4 tbsp

4 tbsp

Vegan Butter

Vegan Butter

2 tbsp

2 tbsp

Vanilla Extract

Vanilla Extract

1 tsp

1 tsp

Table Salt

Table Salt

1/4 tsp

1/4 tsp

Bread Flour

Bread Flour

300g

2 & 1/2 cups

Caramelized pears:

Pear

Pear

5

5

Vegan Butter

Vegan Butter

2 tbsp

2 tbsp

Ground Cinnamon

Ground Cinnamon

2 tsp

2 tsp

Brown Sugar

Brown Sugar

1 heaped tbsp

1 heaped tbsp

Table Salt

Table Salt

pinch

pinch

Ganache:

Dark Chocolate

Dark Chocolate

100g

3/4 cup

Soy Cream

Soya Cream

100g

2/5 cup

Vegan Butter

Vegan Butter

1 tbsp

1 tbsp
Instructions
1.

First, make the dough. Place the warm water and yeast in a large bowl and stir well. Leave until frothy, about 5 minutes.

2.

Now, stir in the coconut milk, aquafaba, sugar, melted vegan butter, vanilla, and salt.

3.

Add the flour, and mix with your hands until a shaggy dough forms. Continue to knead until it comes together in a smooth, elastic ball. Place this back in the large bowl and cover with a damp towel. Place this in a warm place until it is doubled in size, about 1 hour.

4.

Now, fry the pears! Place the diced pears, butter, cinnamon, sugar and pinch of salt in a pan or saucepan and cook, stirring frequently, until the pears are soft and reduced. This usually takes me about 6-7 minutes on a medium-high heat. Leave this aside to cool.

5.

To make the ganache, chop the chocolate up into small shards or pieces. Microwave the soy cream until bubbling (or heat it up over medium heat in a saucepan), pour in the chopped chocolate, and cover. Let this sit for 5-6 minutes, then uncover and stir well to distribute the melted chocolate. Add the butter and stir it in. Leave this in the fridge until you use it, as you want it to be more solid to prevent making too much of a mess!

6.

Grease and line a large bread loaf pan (9 x 5 x 3 inches). If you only have the smaller size (8 x 4 x 2½ in), make two loafs with this recipe. Preheat the oven to 180C. When the dough is ready, knock it back down and pour it out onto a well-floured countertop.

7.

Roll the dough out into a large rectangle about ½-1/4-inches thick.This is the ideal thickness if you don't want to struggle to roll it up! My rectangle is usually about 12 by 19 inches. Roll it out so the longer side is facing you.

8.

*If you are making two loafs, just use half of the dough, ganache, and pears.

9.

Spread out the COMPLETELY COOL ganache evenly over the surface of the dough, leaving a 1-inch border so it doesn't get too close to the edge of the dough. It should be a slightly thicker consistency than Nutella. Sprinkle the pears over the ganache evenly, then roll the dough up away from you into a tight log, like you would when making cinnamon rolls.

10.

Take a very sharp knife and cut the log in half lengthwise, then flip each piece so the cut sides, with the layers of dough and ganache, face upwards. Cross the strands over each other into an X, then twist the strands over each other on either side of the X, until all the dough is twisted.

11.

Squidge the twisted log so that it is the same length as your bread pan, Then lift it up gently and pop it into the loaf pan. Cover and proof for 30min-1hour, until it has risen a bit and looks fluffy.

12.

Bake the babka, rotating the loaf pan halfway through, until golden brown, 50–60 minutes. If it starts to brown too much, just pop a bit of foil on top of the loaf. Transfer the loaf in the pan to a wire rack and let babka cool in pan 1 hour, before removing it. If you are making two loaves, bake for 35-40 minutes. To check if the loaf is done, insert a skewer and it should not come out looking sticky or doughy (try to avoid a chocolate-rich spot when doing this test!)

13.

Optional step: Many babkas have a syrup poured on top of them. If you like your desserts sweet, just warm up about ¼ cup of agave/rice syrup and brush over the cooling loaf.

14.

*For the vegan butter I use Stork, it's a great alternative to butter and is the closest thing I have found that you can bake with!

15.

* You can also use all-purpose (plain) flour or a 50-50 mix of this and bread flour.
Nutritional Information
Calories:


243

Fat:


7g

Sodium:


89mg

Carbs:


33g

Sugar:


8g

Protein:


4g