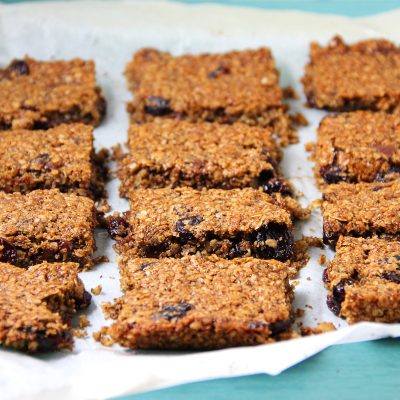 Chocolate and Cranberry Flapjack
Prep: 10 Mins / Cook: 20 Mins

Serves 10

easy
Sweet, chewy and wholesome these golden flapjacks are a tasty twist on the time-honored British classic recipe. Quick to prepare and with only 6 ingredients required - it's so easy to bake your own delicious batch! These moreish treats are low in sugar, naturally sweetened with yacon syrup, chocolate and cranberries!
Dairy Free
Low Carb
Ingredients
* Switch between cup/oz and g/ml in Account Settings*
Coconut Oil

Coconut Oil

6.5 tbsp

6.5 tbsp

Rolled Oats

Rolled Porridge Oats

150g

1 & 2/3 cups

Yacon Syrup

Yacon Syrup

4 tbsp

4 tbsp

Ground Chia Seeds

Ground Chia Seeds

3 tbsp

3 tbsp

Whole Dried Cranberries

Whole Dried Cranberries

25g

1/5 cup

Vegan Dark Chocolate

Vegan Dark Chocolate

25g

1/5 cup
Instructions
1.

Preheat the oven at 180°C/350F/Gas Mark 4. Grease an ovenproof dish with a little coconut oil.

2.

Gently melt the coconut oil, either in the microwave or in a bowl over a pan of hot water.

3.

Break the chocolate into small pieces.

4.

Add the ingredients into the bowl. Mix thoroughly until all of the dry ingredients are coated.

5.

Add the mixture to the ovenproof dish and press firmly to create an even layer.

6.

Bake in the oven for around 20 minutes until it is golden around the edges.

7.

Remove from the oven and allow to cool. Cut into slices and enjoy!

8.

*Note: as you prefer, you can substitute the 4 tbsp yacon syrup with 3tbsp of molasses.
Nutritional Information
Calories:


192

Fat:


13g

Carbs:


18g

Sugar:


4g

Protein:


3g