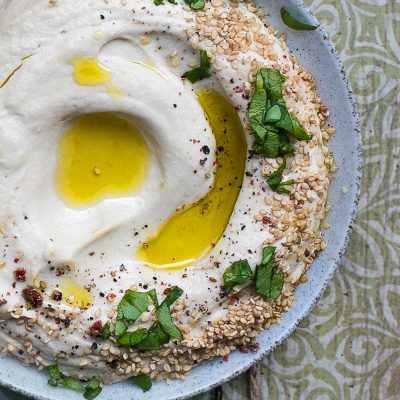 Cauliflower Hummus
Prep: 15 Mins / Cook: 0 Mins

Serves 12

easy
A delicious gluten free hummus made from cauliflower - a superfood rich in vitamin C, healthy nutrition and anti-inflammatory compounds. Ready in just 15 minutes, this irresistible vegan dip is low in fat, low in carbs and also suitable for those following a ketogenic diet! Gluten free and flavored with tahini, lemon and coriander it has a very similar taste to traditional hummus but with half the calories! Perfect for spreading on your favorite savory snacks or as a moreish dip for celery or carrot sticks!
Gluten Free
Dairy Free
Low Carb
Under 30 mins
Ingredients
* Switch between cup/oz and g/ml in Account Settings*
Cauliflower

Cauliflower

1 head

1 head

Tahini

Tahini

3 tbsp

3 tbsp

Lemon

Lemon

1/2

1/2

Ground Cilantro

Ground Coriander

1/2 tbsp

1/2 tbsp

Ground Cayenne Pepper

Ground Cayenne Pepper

1/2 tsp

1/2 tsp

Olive Oil

Olive Oil

3 tbsp

3 tbsp

Table Salt

Table Salt

to taste

to taste

Ground Black Pepper

Ground Black Pepper

to taste

to taste
Instructions
1.

Remove stem from cauliflower and break the head into medium size florets. Steam until soft.

2.

Add all other ingredients to a high speed blender and add florets once soft. Blend until creamy and smooth.

3.

Season with salt and pepper.
Nutritional Information
Calories:


115

Fat:


10g

Sodium:


41mg

Carbs:


5g

Sugar:


2g

Protein:


3g