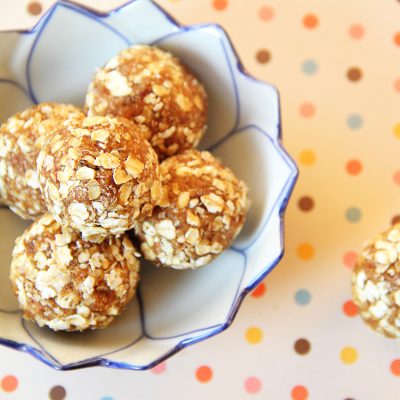 Caramel Oat Bites
Prep: 15 Mins / Cook: 0 Mins

Serves 10

easy
Ready in just 15 minutes and made from only 3 ingredients these delicious caramel oat bites are a cinch to make and will go down a treat! Sweetened with pitted dates, these moreish oat balls are a perfect post meal sweet or afternoon appetizer. Add this vegan dessert option to your weekly meal plan!
Dairy Free
Low Carb
Under 30 mins
Ingredients
* Switch between cup/oz and g/ml in Account Settings*
Pitted Dates

Pitted Dates

200g

1 & 1/8 cup

Rolled Oats

Rolled Porridge Oats

50g

2/3 cup

Cashew Butter

Cashew Butter

1 tbsp

1 tbsp

Coating:

Rolled Oats

Rolled Porridge Oats

40g

1/2 cup
Instructions
1.

*This recipe will make 20 oat balls.

2.

*Pre-soak the dates in hot water for 1 hour or overnight in cold water.

3.

Drain the dates then add them, along with the oats and cashew nut butter, to a food processor.

4.

Blend until they have formed a smooth, sticky paste.

5.

Place the mixture in the fridge for ten minutes - this will make it easier to roll into balls.

6.

Separate the mix into small portions, roll into balls and roll in the extra oats until they are fully coated. Store in the fridge before serving.
Nutritional Information
Calories:


104

Fat:


2g

Carbs:


19g

Sugar:


13g

Protein:


2g