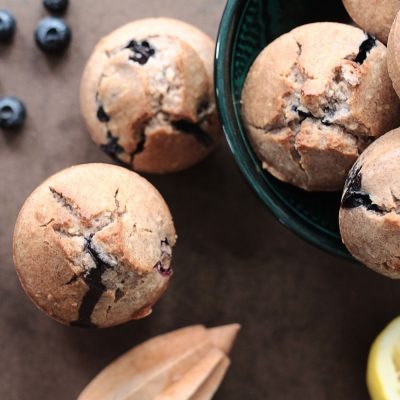 Buckwheat Blueberry and Coconut Muffins
Prep: 15 Mins / Cook: 20 Mins

Serves 12

easy
Soft and fluffy buckwheat muffins, sweetened with fresh blueberries with a hint of vanilla and combining nutty buckwheat with desiccated coconut - these tasty gluten free muffins are a wonderful option for a sweet breakfast or afternoon snack in your meal plan.
Gluten Free
Dairy Free
Ingredients
* Switch between cup/oz and g/ml in Account Settings*
Buckwheat Flour

Buckwheat Flour

250g

2 cups

Table Salt

Table Salt

1/2 tsp

1/2 tsp

Coconut Milk

Coconut Milk

240ml

1 cup

Caster Sugar

Caster Sugar

100g

1/2 cup

Vegetable Oil

Vegetable Oil

80ml

1/3 cup

Vanilla Extract

Vanilla Extract

2 tsp

2 tsp

Lemon Juice

Lemon Juice

1 tsp

1 tsp

Shredded Coconut

Desiccated Coconut

40g

1/2 cup

Blueberries

Blueberries

150g

1 cup
Instructions
1.

Preheat the oven to 180C degrees.

2.

Sift the buckwheat flour, sugar, salt and baking powder into a large mixing bowl.

3.

In a different bowl, mix the vegetable oil, coconut milk, vanilla extract and lemon juice.

4.

Pour the moist mixture into the dry mixture and stir loosely.

5.

Stir in the desiccated coconut and blueberries.

6.

Grease a 12-hole muffin tray with vegetable oil.

7.

Add the mixture equally to each hole and bake for 20 minutes.

8.

Remove the muffins from the tray, cool for 15-20 minutes before serving.
Nutritional Information
Calories:


199

Fat:


9g

Sodium:


8mg

Carbs:


27g

Sugar:


12g

Protein:


3g