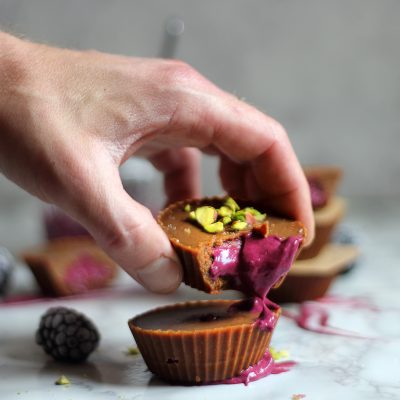 Almond and Blackberry Fudge Cupcakes
Prep: 40 Mins / Cook: 0 Mins

Serves 10

easy
No baking required in the making of these magical cupcakes! Fudgy to the bite with a gooey and sweet, blackberry center it is impossible to stop at just one cupcake! Gluten free and vegan, what's not to love about these sumptuous raw cupcakes!
Gluten Free
Dairy Free
Low Carb
Ingredients
* Switch between cup/oz and g/ml in Account Settings*
Blackberry jelly:

Blackberries

Blackberries

280g

2 cups

Chia Seeds

Chia Seeds

40g

1/4 cup

Water

Water

60ml

1/4 cup

Lemon Juice

Lemon Juice

2 tbsp

2 tbsp

Stevia

Stevia

1.5 tsp

1.5 tsp

Vanilla Extract

Vanilla Extract

1 tsp

1 tsp

Acai Powder

Acai Powder

1 tsp

1 tsp

Almond butter fudge:

Cacao Butter

Cacao Butter

175g

3/4 cup

Maple Syrup

Maple Syrup

160g

1/2 cup

Almond Butter

Almond Butter

240g

1 cup

Sea Salt

Sea Salt

1/4 tsp

1/4 tsp
Instructions
1.

*This recipe will produce 10 cupcakes.

2.

*Timing tip: the cakes will need to cool for approx. 90 minutes during the making of this recipe.

3.

Start by preparing the blackberry jelly, or gloss as I like to call it.

4.

In a blender, whizz up the blackberries, water, lemon juice and vanilla until liquidized.

5.

Stir in the chia seeds and let the mixture sit in the fridge for about 30 minutes. This will help the chia seeds to soften and begin to absorb some of the moisture from the liquid.

6.

Add the stevia and acai if you are using it, and blend again until completely smooth.

7.

This will take about 5 -10 minutes depending on how good a blender you are using. If the mixture iss too thick, add a little more water to get the mixture going. You want a completely silky smooth mix with no chia seed particles. The healthy omega oils in the chia seeds give the jelly a wonderful glossy sheen, hence why I like calling it gloss!

8.

Set the jelly aside in the fridge.

9.

Meanwhile, using a large mixing bowl stir the almond butter and maple syrup into the melted cacao butter. Continue stirring until the mixture is completely incorporated.

10.

Add salt to taste.

11.

Line your muffin/bun tray with bun cases and spoon half of the almond butter fudge into them.

12.

Pop them in the freezer for about 10-15 minutes to set the bottom layer. I recommend keeping the bowl with the remaining fudge sitting on top of a saucepan with some hot water to prevent it from hardening before you are ready to pour it.

13.

Remove the fudge cases from the freezer and spoon a good desssert spoon size of the blackberry jelly on top of each one.

14.

Place them back in the freezer for another 15 minutes.

15.

Finally, spoon the remaining fudge over the the jelly layer to cover them and place them back in the freezer to set for an hour or so.

16.

*You can keep these in an airtight container in your fridge for a week or so, or else keep them in the freezer until you are ready to eat them. They taste amazing when added to porridge as the fudge melts into a pool of almond buttery goodness with a blackberry surprise!
Nutritional Information
Calories:


358

Fat:


38g

Sodium:


239mg

Carbs:


17g

Sugar:


12g

Protein:


2g