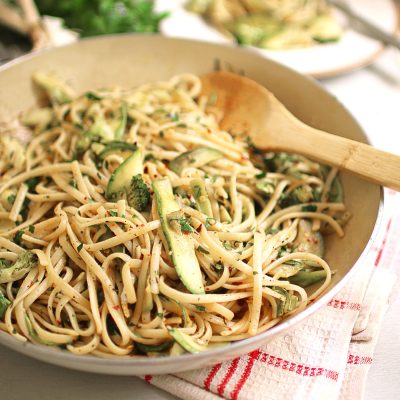 Courgette and Broccoli Linguine
Prep: 15 Mins / Cook: 10 Mins

Serves 2

easy
Loaded with broccoli and zucchini (courgette), this wholesome pasta recipe is rich in protein, vitamin C, A and potassium. Infused with garlic and lemon, it's a deeply flavorful vegan linguine, and could become a quick and easy favorite in your free meal plan!
Dairy Free
High Protein
Under 30 mins
Ingredients
* Switch between cup/oz and g/ml in Account Settings*
Linguine Pasta

Linguine Pasta

200g

2 cups

Garlic

Garlic

2 cloves

2 cloves

Broccoli

Broccoli

100g

2/3 cup

Zucchini

Courgette

200g

1 and 2/3 cups

Lemon Juice

Lemon Juice

1 tbsp

1 tbsp

Dried Thyme

Dried Thyme

1/4 tsp

1/4 tsp

Fresh Parsley

Fresh Parsley

25g

1 cup

Table Salt

Table Salt

1/2 tsp

1/2 tsp

Red Chili Flakes

Crushed Chillies

1/4 tsp

1/4 tsp

Ground Black Pepper

Ground Black Pepper

1/4 tsp

1/4 tsp
Instructions
1.

Boil the linguine in salted water. For cooking time follow the instructions on the pasta packaging.

2.

Rinse the linguine with ice-cold water and shake through a sieve to remove excess water, set aside.

3.

Heat the vegetable oil in a large, non-stick frying pan, add the minced garlic and fry for 2-3 minutes until the garlic turns slightly golden in colour.

4.

Add the finely chopped broccoli and finely sliced courgette (zucchini) and cook for 3 minutes, stirring frequently.

5.

Drop in the linguine, thyme and 2/3 of the finely chopped parsley, season with salt, chilli akes, pepper and lemon juice, stir well and cook for another 3 minutes.

6.

Garnish with the remaining parsley to serve.
Nutritional Information
Calories:


432

Fat:


3g

Sodium:


9997mg

Carbs:


87g

Sugar:


7g

Protein:


19g