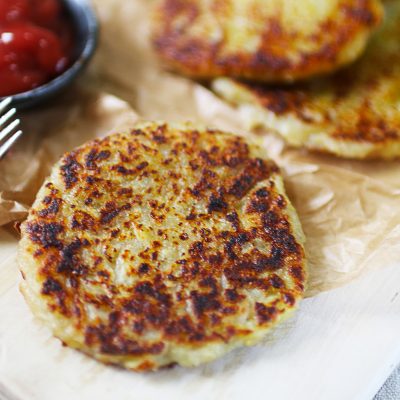 Vegan Hash Browns
Prep: 15 Mins / Cook: 10 Mins

Serves 2

easy
The humble hash brown is a delicious component of the classic English breakfast. Typically made from dairy, here we have created a vegan and healthier hash brown and from just 5 ingredients! Super easy to make and gluten free, its a great addition to a wholesome fried breakfast in your meal plan!
Gluten Free
Dairy Free
Under 30 mins
Ingredients
* Switch between cup/oz and g/ml in Account Settings*
White Potatoes

White Potatoes

400g

1 & 3/4 cups

Table Salt

Table Salt

1/2 tsp

1/2 tsp

Cornstarch

Cornflour

1 tbsp

1 tbsp

Olive Oil

Olive Oil

3 tbsp

3 tbsp

Ground Black Pepper

Ground Black Pepper

pinch

pinch
Instructions
1.

Wash and peel potatoes and then grate with largest holes on a grater.

2.

Place it in a small ceramic bowl in a stainless steel saucepan and steam for 10 minutes.

3.

Combine steamed grated potato with cornflour (cornstarch), salt and black pepper in a large mixing bowl while it is still hot, mixing well.

4.

Scoop out 1?4 cup (55g) potato mixture onto a piece of cling film (or with a plastic glove) then, using the cling film/glove, flatten and shape the potato into a 1cm thick oval shape. Using cling film prevents the potato mixture from sticking to your hand and making a mess.

5.

Repeat the same process with the rest of the grated potato mixture, you should be able to make 4-6 hash browns.

6.

Heat the oil in a large, non-stick frying pan on medium heat and add the hash browns one at a time, leaving a gap between each one so they don't stick together.

7.

Cook until nicely browned on the bottom, then flip over and brown on the other side. They should take around 5 minutes per side.

8.

Remove hash browns from pan, and remove excess oil by patting with kitchen towels, sprinkle with additional salt if needed, serve with ketchup or vegan mayonnaise.
Nutritional Information
Calories:


412

Fat:


21g

Sodium:


590mg

Carbs:


55g

Sugar:


2g

Protein:


6g