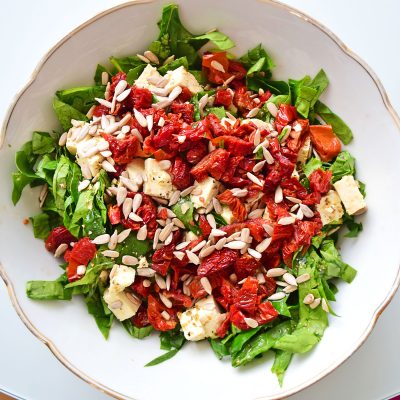 Tofu and Sun Dried Tomato Salad
Prep: 20 Mins / Cook: 0 Mins

Serves 4

easy
Ingredients
* Switch between cup/oz and g/ml in Account Settings*
Firm Tofu

Firm Tofu

250g

1 cup

Olive Oil

Olive Oil

2 tbsp

2 tbsp

Sunflower Oil

Sunflower Oil

2 tbsp

2 tbsp

Orange

Orange

peel of 1

peel of 1

Lemon

Lemon

peel of 1

peel of 1

Garlic

Garlic

1 clove

1 clove

Dried Oregano

Dried Oregano

1 tsp

1 tsp

Organic Spinach

Organic Spinach

200g

6 & 2/3 cups

Sun Dried Tomatoes

Sun Dried Tomatoes

10

10

Sunflowers Seeds

Sunflowers Seeds

3 tsp

3 tsp
Instructions
1.

*Prepare a day in advance of eating*

2.

Cut the tofu into cubes. Peel and crush the garlic.

3.

Place the diced tofu into a jar. Add the minced garlic, oregano and zest of an orange and lemon. Add the olive oil and sunflower oil, close the jar with a lid, turn the jar gently to mix the contents and reserve in the fridge for 24 hrs.

4.

The next day, wash and chop the spinach, slice the dried tomatoes and add to a salad bowl with the marinated tofu.

5.

Top with a sprinkling of sunflower seeds and a little more oil if required.
Nutritional Information
Calories:


236

Fat:


18g

Sodium:


59mg

Carbs:


15g

Sugar:


2g

Protein:


10g