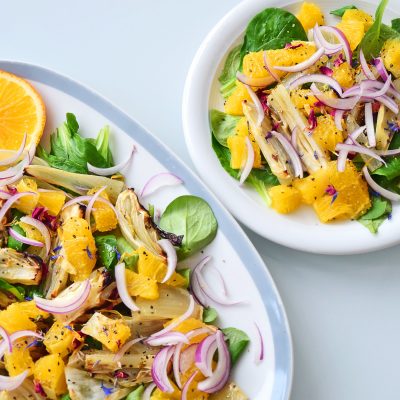 Sweet Fennel Salad
Prep: 10 Mins / Cook: 20 Mins

Serves 4

easy
Ingredients
* Switch between cup/oz and g/ml in Account Settings*
Fennel

Fennel

3 bulbs

3 bulbs

Vegan Butter

Vegan Butter

1 tbsp

1 tbsp

Brown Sugar

Brown Sugar

1 tsp

1 tsp

Orange

Orange

1

1

Red Onion

Red Onion

1

1

Mixed Leaf Salad

Mixed Leaf Salad

200g

5 & 2/3 cups

Garlic Powder

Garlic Powder

1/2 tsp

1/2 tsp

Ground Black Pepper

Ground Black Pepper

to taste

to taste

Edible Flowers

Edible Flowers

handful

handful
Instructions
1.

Cut the fennels into quarters and brush them with butter and a sprinkling of sugar.

2.

Place the fennel bulb onto an oven tray and cook in the oven at 180°C for 15/20 minutes. Once cooked, remove from the oven and set aside to cool down.

3.

Peel and slice the orange. Peel and chop the onion.

4.

Wash the salad leaves, and serve with the fennel, orange and red onion. Season with black pepper, garlic powder and garnish with edible flowers.
Nutritional Information
Calories:


308

Fat:


7g

Sodium:


122mg

Carbs:


57g

Sugar:


14g

Protein:


12g