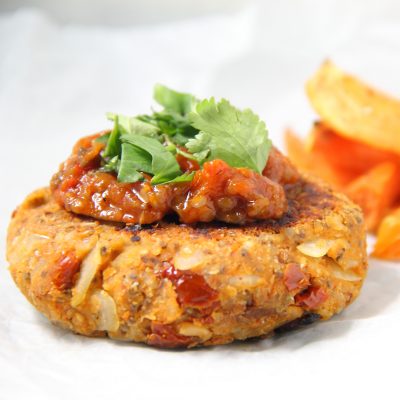 Superfood Butter Bean Burgers
Prep: 8 Mins / Cook: 15 Mins

Serves 6

easy
Lima beans - or butter beans in the UK - have a ton of health benefits due to their high content of dietary fiber, copper, protein and manganese. And here they are at the heart of these dense and juicy gluten free bean burgers. With zero cholesterol and almost no fat, this recipe is further proof vegans can enjoy junk food, but of course in a healthy way!
Gluten Free
Dairy Free
Low Carb
Under 30 mins
Ingredients
* Switch between cup/oz and g/ml in Account Settings*
Brown Rice

Brown Rice

60g

1/3 cup

Lima Beans in Water

Butter Beans in Water

200g

1 cup

Chia Seeds

Chia Seeds

30g

2 tbsp

Quinoa Flakes

Quinoa Flakes

30g

1/3 cup

Yellow Onion

Brown Onion

1

1

Sun Dried Tomatoes

Sun Dried Tomatoes

8

8

Smoked Paprika

Smoked Paprika

1 tsp

1 tsp

Ground Cinnamon

Ground Cinnamon

1/2 tsp

1/2 tsp

Red Chili Flakes

Crushed Chillies

1/4 tsp

1/4 tsp

Coconut Oil

Coconut Oil

3 tsp

3 tsp

Fresh Cilantro

Fresh Coriander

handful

handful

Salsa

Salsa

6 tbsp

6 tbsp
Instructions
1.

Add the cooked lima beans (butter beans) to a large bowl and mash them to break up the beans (it doesn't need to be completely smooth).

2.

Add the other burger ingredients to the bowl and mix thoroughly.

3.

Separate the burger mixture into six portions and form into burger patties.

4.

Set to one side for around ten minutes to allow the quinoa flakes to absorb moisture.

5.

Heat a large frying pan over a medium heat then add the coconut oil. Once melted, carefully place the burgers into the frying pan and cook for around eight minutes, turning occasionally, until they are golden on both sides and have fully heated through.

6.

Serve with a dollop of salsa and sprinkle over freshly chopped cilantro (coriander). These burgers are delicious as they are or in bread baps.
Nutritional Information
Calories:


110

Fat:


4g

Sodium:


105mg

Carbs:


14g

Sugar:


2g

Protein:


4g