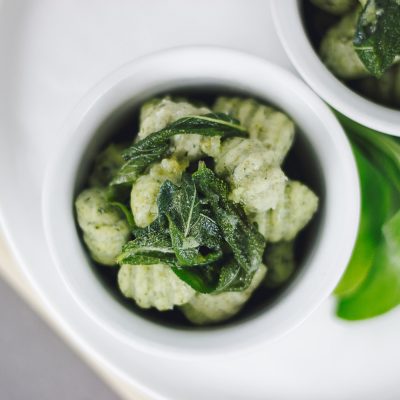 Spinach and Sage Buttered Gnocchi
Prep: 5 Mins / Cook: 5 Mins

Serves 2

easy
Ingredients
* Switch between cup/oz and g/ml in Account Settings*
Vegan Butter

Vegan Butter

55g

1/4 cup

Garlic

Garlic

1 clove

1 clove

Fresh Sage

Fresh Sage

1 sprig

1 sprig

Sea Salt

Sea Salt

pinch

pinch

Ground Black Pepper

Ground Black Pepper

pinch

pinch

Spinach Gnocchi

Spinach Gnocchi

300g

2 & 1/2 cups

Water

Water

500ml

2 cups
Instructions
1.

Melt butter in a saucepan over medium heat, when it's bubbling add minced garlic clove and stir for 1min. Add sage leaves and stir for 1 to 2min until butter turns light brown with a nutty aroma. Season to taste with salt and pepper.

2.

Bring pot of salted water to boil, place gnocchi into water and reduce to simmer for 2 to 3min or until gnocchi floats to surface.

3.

Drain gnocchi and toss with brown butter sage sauce.
Nutritional Information
Calories:


604

Fat:


31g

Sodium:


281mg

Carbs:


71g

Sugar:


1g

Protein:


17g