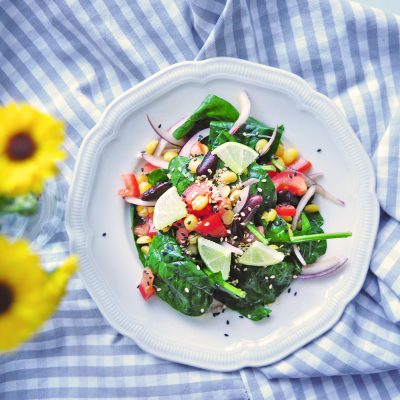 Spinach and Lime Salad
Prep: 15 Mins / Cook: 40 Mins

Serves 4

easy
Ingredients
* Switch between cup/oz and g/ml in Account Settings*
Organic Spinach

Organic Spinach

200g

6 & 2/3 cups

Large Vine Tomatoes

Large Vine Tomatoes

1

1

Yellow Split Peas

Yellow Split Peas

110g

1/2 cup

Red Onion

Red Onion

1

1

Kidney Beans

Kidney Beans

90g

1/2 cup

Lime

Lime

1

1

Olive Oil

Olive Oil

2 tbsp

2 tbsp

For decoration:

Mixed Sesame Seeds

Mixed Sesame Seeds

2 tbsp

2 tbsp

Lime

Lime

1

1
Instructions
1.

*Pre-Soak the peas and the kidney beans in water the night before cooking.*

2.

Boil them in a saucepan separately until they soften. The yellow peas will need 20 minutes, the red kidney beans will need a little longer, around 30/40 minutes.

3.

Wash the spinach. Wash and slice the tomato. Peel and slice the red onion.

4.

Drain the peas and kidney beans, then mix in a salad bowl with the vegetables. Add squeezed lime juice and the olive oil.

5.

Quarter a second lime and slice finely, and serve with some sesame seeds for decoration.
Nutritional Information
Calories:


298

Fat:


9g

Sodium:


167mg

Carbs:


50g

Sugar:


6g

Protein:


17g