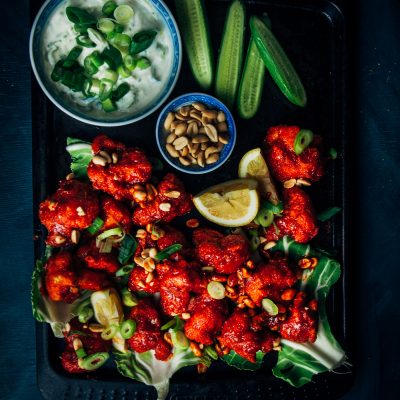 Spicy Cauliflower Vegan Wings
Prep: 30 Mins / Cook: 35 Mins

Serves 3

easy
These spicy vegan wings are a delicious meat-free retake of the classic buffalo wings. Our cauliflower wings are coated with hot, Korean spices served with a complimentary cooling scallion dip. These wings pack a punch and make a great party food for you and your favorite people. Served with a cooling, zingy scallion dip. Add it to your free 7 day meal planner today!
Dairy Free
High Protein
Ingredients
* Switch between cup/oz and g/ml in Account Settings*
Cauliflower

Cauliflower

1 head

1 head

Batter:

Soy Milk

Soya Milk

180ml

3/4 cup

All Purpose Flour

Plain Flour

60g

1/2 cup

Gochugaru

Gochugaru

1/4 tsp

1/4 tsp

Table Salt

Table Salt

1/4 tsp

1/4 tsp

Ground Black Pepper

Ground Black Pepper

1/4 tsp

1/4 tsp

Golden Breadcrumbs

Golden Breadcrumbs

100g

1 cup

Table Salt

Table Salt

1/4 tsp

1/4 tsp

Glaze:

Garlic

Garlic

4 cloves

4 cloves

Ginger Root

Ginger Root

3cm piece

3cm piece

Gochujang

Gochujang

65g

1/4 cup

Rice Vinegar

Rice Vinegar

1 tbsp

1 tbsp

Agave Nectar

Agave Nectar

4 tbsp

1/4 cup

Sesame Oil

Sesame Oil

1 tbsp

1 tbsp

Roasted Peanuts

Roasted Peanuts

75g

1/2 cup

Sesame Seeds

Sesame Seeds

1/2 tsp

1/2 tsp

Scallions

Scallions

1/2

1/2

Scallion dip:

Vegan Yoghurt

Vegan Yoghurt

250g

1 cup

Cucumber

Cucumber

1/2

1/2

Scallions

Scallions

2

2

Lemon Juice

Lemon Juice

1 tbsp

1 tbsp

Table Salt

Table Salt

to taste

to taste
Instructions
1.

*if you don't have gochugaru you can use crushed chilli flakes.

2.

*For a gluten-free option - Use rice flour instead of all-purpose (plain) flour and make sure your breadcrumbs are gluten-free. Some brands of gochujang aren't gluten-free, so double check that yours is.

3.

*If you aren't a big fan of spicy food, omit the gochugara/chilli flakes and substitute half of the gochujang with tomato paste.

4.

Position a rack in the centre of the oven and preheat the oven to 200C. Place a piece of parchment paper or silpat on two baking sheets, and set aside.

5.

Wash and cut cauliflower head into bite-sized pieces/florets. In a bowl, whisk together the soy milk, flour, gochugaru, salt and pepper. In a separate shallow bowl, toss the golden breadcrumbs and salt together.

6.

Dip a cauliflower floret in the flour batter, shake off excess batter, then dip into the breadcrumbs. Toss to coat then place the floret on the prepared tray.

7.

Repeat for all florets and continue to arrange them in a single layer on the prepared baking sheets. Bake for 20-25 minutes or until the crust is crispy and golden.

8.

Meanwhile, make the gochujang glaze. in a shallow bowl, mix the garlic, ginger, gochujang, vinegar, syrup and sesame oil together.

9.

When the florets are golden and baked, remove from the oven, toss each in the prepared glaze (one by one), let excess glaze drip off before returning it to the tray. Repeat until all your florets are coated. You may have excess or not enough glaze, as this depends on the size of your cauliflower, but you can always whisk some more up if needed.

10.

Sprinkle peanuts over the cauliflower on the tray, then bake for another 5-7 minutes.

11.

To make the dip, firstly grate and squeeze the cucumber to remove the excess liquid. Finely slice the scallions. Now mix all the dip ingredients together.

12.

Serve the florets hot or warm, garnished with scallions and sesame seeds, with a side of scallion yogurt dipping sauce.
Nutritional Information
Calories:


617

Fat:


20g

Sodium:


602mg

Carbs:


94g

Sugar:


38g

Protein:


20g