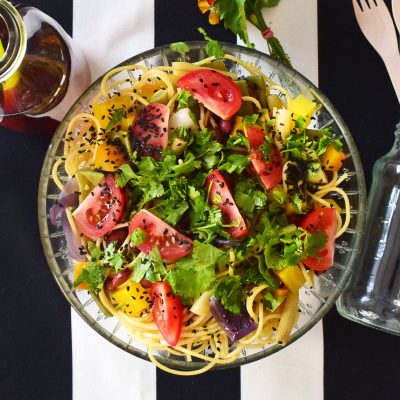 Spaghetti and Vegetable Salad
Prep: 20 Mins / Cook: 15 Mins

Serves 2

easy
A cool spaghetti salad with fresh vegetables and parsley, perfect for summer lunches or buffets.
Dairy Free
High Protein
Ingredients
* Switch between cup/oz and g/ml in Account Settings*
Spaghetti Pasta

Spaghetti Pasta

250g

1 & 2/3 cups

Green Beans

Green Beans

125g

1 cup

Cannelini Beans in Water

Cannelini Beans in Water

75g

1 cup

Raw Yellow Beet

Raw Yellow Beetroot

1/2

1/2

Red Onion

Red Onion

1

1

Salad Tomatoes

Salad Tomatoes

1

1

Fresh Parsley

Fresh Parsley

handful

handful

Sesame Seeds

Sesame Seeds

1 tsp

1 tsp

Sesame Oil

Sesame Oil

1 tbsp

1 tbsp

Kidney Beans in Water

Kidney Beans in Water

45g

1/4 cup
Instructions
1.

Wash the beetroot and trim the stems. Place the beetroots in a saucepan of cold water, and bring to a boil, once boiled reduce the heat to a simmer and cook for 40-45 minutes, until soft.

2.

Then you can take a well-deserved mini rest for 25 minutes!

3.

Pre-heat the oven to 200C. Line a baking tray and then, without peeling it, add the onions to the tray and bake for 10-15 minutes.

4.

Cook the spaghetti to your preference, cooking on the stove for approx. 10-12 minutes.

5.

Meanwhile add a pot of water to the stove, bring to a boil and add the green beans, kidney beans and cannellini beans, cook for 5-7 minutes.

6.

Rinse and cut the tomatoes.

7.

Drain the beetroot and set aside to cool. Once cool, peel the beetroot and cut into quarters.

8.

Once the spaghetti is cooked, drain and reserve a tablespoon of the cooking water. Now mix altogether with the sesame oil, mixed beans, beetroot, tomatoes, fresh parsley and sesame seeds. Enjoy!
Nutritional Information
Calories:


615

Fat:


10g

Sodium:


36mg

Carbs:


110g

Sugar:


10g

Protein:


22g