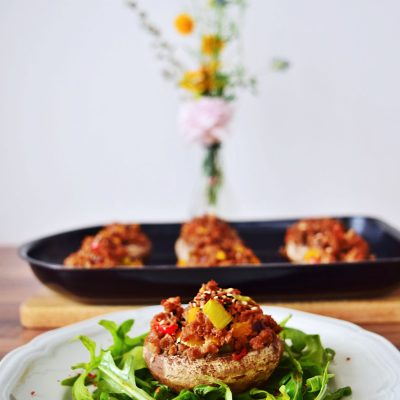 Soy Stuffed Mushrooms
Prep: 20 Mins / Cook: 10 Mins

Serves 2

easy
Ingredients
* Switch between cup/oz and g/ml in Account Settings*
Large Mushrooms

Large Mushrooms

7

7

Textured Soy Protein

Textured Soy Protein

80g

1 cup

Light Soy Sauce

Light Soy Sauce

1 tbsp

1 tbsp

Dark Soy Sauce

Dark Soy Sauce

1 tbsp

1 tbsp

Water

Water

200ml

4/5 cup

Coconut Oil

Coconut Oil

1 tsp

1 tsp

Red Bell Pepper

Red Bell Pepper

1/2

1/2

Yellow Bell Pepper

Yellow Bell Pepper

1/2

1/2

Red Onion

Red Onion

1/2

1/2

Spring Onion

Spring Onion

1

1

Black Sesame Seeds

Black Sesame Seeds

2 tsp

2 tsp

Arugula Salad

Rocket Salad

80g

3 cups
Instructions
1.

Place the textured soya in a bowl and add the soy sauces and water. Do this gradually allowing the soya to progressively absorb the liquids. The soya mix will double in size.

2.

Fine chop the onions, bell peppers and spring onion and fry in a pan with the coconut oil for 4 mins.

3.

Once the vegetables are cooked, add the textured soya and stir for 1-2 mins.

4.

Remove the stems of the mushrooms and place onto a baking tray. Fill the mushrooms with the soya and vegetable mix and place in the oven for 15-20minutes on 180°C/ 350 F°.

5.

Serve with sesame seeds and salad.
Nutritional Information
Calories:


312

Fat:


5g

Sodium:


305mg

Carbs:


34g

Sugar:


16g

Protein:


31g