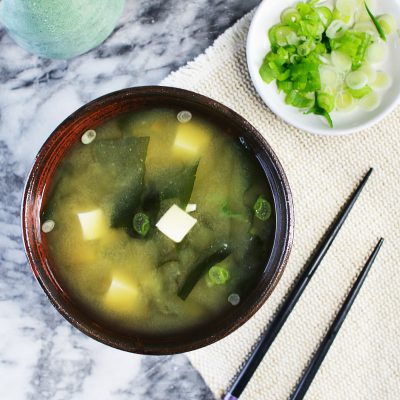 Simple Vegan Miso Soup
Prep: 5 Mins / Cook: 10 Mins

Serves 2

easy
Learn how to make traditional miso soup in the simplest way possible! Deliciously savory and comforting this vegan miso soup contains silken tofu, spring onions and wakame seaweed. A truly versatile gluten free soup that works equally well as a breakfast, lunch or dinner!
Gluten Free
Dairy Free
Low Carb
Under 30 mins
Ingredients
* Switch between cup/oz and g/ml in Account Settings*
Wakama Seaweed

Wakama Seaweed

1 tbsp

1 tbsp

Silken Tofu

Silken Tofu

100g

2/5 cup

Spring Onion

Spring Onion

1

1

Miso Paste

Miso Paste

2 tbsp

2 tbsp

Table Salt

Table Salt

1/4 tsp

1/4 tsp

Bouillon Vegetable Powder

Bouillon Vegetable Powder

1/2 tsp

1/2 tsp

Water

Water

600ml

2 & 2/5 cups
Instructions
1.

Pour 600ml hot water into the small or medium saucepan, add 1 tbsp wakama seaweed, cook for 5 minutes on medium heat.

2.

Whisk in the miso paste and add chopped tofu.

3.

Season the soup with salt and bouillon, stir gently and cook for a further 2-3 minutes.

4.

Add the spring onion and simmer for 1-2 minutes before serving.

5.

Note: Traditionally, miso is cooked with dashi, a basic Japanese stock made by boiling dried kelp and bonito (dried fish). However, this is a simplified version so I replaced the dashi with bouillon.
Nutritional Information
Calories:


48

Fat:


2g

Sodium:


845mg

Carbs:


4g

Sugar:


3g

Protein:


3g