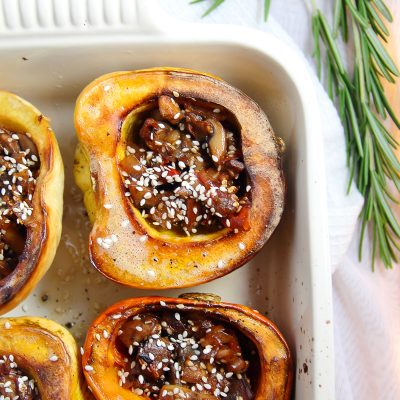 Roasted Winter Squash with Mushrooms
Prep: 10 Mins / Cook: 70 Mins

Serves 5

easy
Sesame and mushroom stuffed squash make an attractive centerpiece for a vegan Christmas dinner. Each halved squash is filled with fresh mushrooms, tomato, shallots, generously seasoned and topped with rosemary before roasting in the oven. Gluten and dairy free, this seasonal recipe is perfect for the colder season!
Gluten Free
Dairy Free
Low Carb
Ingredients
* Switch between cup/oz and g/ml in Account Settings*
Winter Squash

Winter Squash

3

3

Olive Oil

Olive Oil

2 tbsp

2 tbsp

Sea Salt

Sea Salt

1/2 tsp

1/2 tsp

Ground Black Pepper

Ground Black Pepper

1/2 tsp

1/2 tsp

Sesame Oil

Sesame Oil

3 tbsp

3 tbsp

Chestnut Mushrooms

Chestnut Mushrooms

6

6

Shallot

Shallot

4

4

Medium Tomatoes

Medium Tomatoes

6

6

Garlic

Garlic

2 cloves

2 cloves

Soy Sauce

Soy Sauce

2 tbsp

2 tbsp

Rosemary

Rosemary

1 sprig

1 sprig

Table Salt

Table Salt

to taste

to taste

Ground Black Pepper

Ground Black Pepper

to taste

to taste

Sesame Seeds

Sesame Seeds

2 tbsp

2 tbsp
Instructions
1.

Preheat the oven to 190C/gas mark 5/375F.

2.

Cut each squash in half and scoop out the seeds. Brush with olive oil, season with the salt and pepper then place into the oven in an ovenproof dish. Roast for around one hour (depending on your oven) or until tender and browned.

3.

In the meantime, add the sesame oil to a frying pan and heat over a medium high heat. Once hot, add the mushrooms and sautée until they release their water and start to brown.

4.

Add the shallots to the mushrooms. Cook for 2 minutes, stirring frequently.

5.

Add the tomatoes, soy sauce, garlic, rosemary, seasoning. Turn down the heat, simmer for five minutes.

6.

Remove any thick rosemary stalks, stir in the sesame seeds and set the filling mix aside.

7.

Once the squash have cooked, scoop the filling into each squash, top with extra seeds and drizzle with the extra tablespoon of sesame oil.

8.

Return to oven for five minutes.

9.

Serve!
Nutritional Information
Calories:


217

Fat:


16g

Sodium:


494mg

Carbs:


18g

Sugar:


8g

Protein:


4g