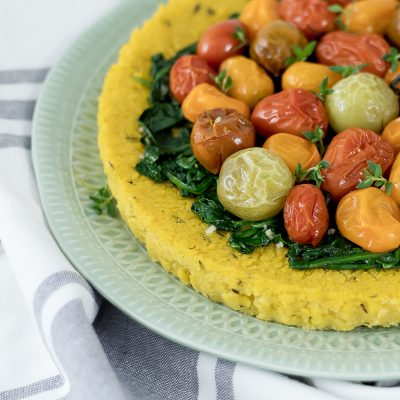 Roasted Tomato Polenta Tart
Prep: 10 Mins / Cook: 60 Mins

Serves 8

easy
Topped with spinach and roasted tomatoes this savory vegan dish is a fantastic source of vitamin K, E and dietary fiber. Nutritional yeast gives it that cheesy rich flavor while remaining completely dairy free. Gluten free to boot and low in carbs - what's not to love!
Gluten Free
Dairy Free
Low Carb
Ingredients
* Switch between cup/oz and g/ml in Account Settings*
Vegetable Stock

Vegetable Stock

1 litre

4 cups

Polenta

Polenta

160g

1 cup

Nutritional Yeast

Nutritional Yeast

1.5 tbsp

1/4 cup

Thyme

Thyme

1 tbsp

1 tbsp

Olive Oil

Olive Oil

60ml

1/4 cup

Garlic

Garlic

3 cloves

3 cloves

Spinach

Spinach

500g

1.1 lbs

Ground Nutmeg

Ground Nutmeg

1/4 tsp

1/4 tsp

Table Salt

Table Salt

to taste

to taste

Ground Black Pepper

Ground Black Pepper

to taste

to taste

Mixed Cherry Tomatoes

Mixed Cherry Tomatoes

350g

2 & 1/3 cups
Instructions
1.

Preheat oven to 200ºC and grease a 20cm loose-bottomed tart pan.

2.

Add vegetable stock to a saucepan over medium heat and reduce to simmer.

3.

Gradually add polenta, whisk until combined, then stir occasionally for 10min or until slightly thickened.

4.

Add nutritional yeast and thyme and cook, stirring for 2min or until combined.

5.

Pour polenta mixture into the greased tart pan and set aside.

6.

Place tomatoes on a parchment lined baking sheet and drizzle with 1 tbsp olive oil.

7.

Bake polenta crust and tomatoes for 15 - 20min or until polenta is set, light golden, and crisp on the outside, and tomatoes are just starting to fall apart.

8.

Meanwhile, heat the remaining 2 tbsp olive oil in a skillet, sautee garlic until fragrant, stir in spinach and cook, stirring frequently until wilted. Season with nutmeg, salt and pepper and set aside.

9.

After 20min, remove polenta crust and tomatoes from oven (leave oven on).

10.

Scoop spinach mixture onto polenta base and spread around with the back of a spoon until mostly covered.

11.

Arrange tomatoes on top of spinach, drizzle with olive oil and bake for a further 5 to 10min to warm through.

12.

Garnish with fresh thyme sprigs, cut into wedges and serve.
Nutritional Information
Calories:


115

Fat:


9g

Sodium:


967mg

Carbs:


8g

Sugar:


3g

Protein:


4g