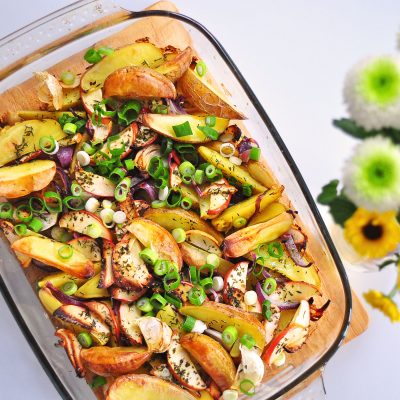 Roasted Seasoned Potatoes
Prep: 10 Mins / Cook: 20 Mins

Serves 4

easy
Ingredients
* Switch between cup/oz and g/ml in Account Settings*
White Potatoes

White Potatoes

6

6

Red Apple

Red Apple

2

2

Red Onion

Red Onion

1

1

Olive Oil

Olive Oil

2 tbsp

2 tbsp

Table Salt

Table Salt

1 tsp

1 tsp

Dried Thyme

Dried Thyme

1 tbsp

1 tbsp

Spring Onion

Spring Onion

1

1

Garlic

Garlic

5 cloves

5 cloves
Instructions
1.

Wash the potatoes and cut them into quarters. Wash and slice the apples.

2.

Crush the garlic without removing the peel. Peel and slice the onion.

3.

Add the ingredients to a oven tray. Mix with olive oil, salt, thyme.

4.

Cook in the oven (180°C) for 20 minutes.

5.

Rinse and chop the spring onion and sprinkle on top of your roasted vegetables, before serving.
Nutritional Information
Calories:


469

Fat:


8g

Sodium:


47mg

Carbs:


94g

Sugar:


12g

Protein:


21g