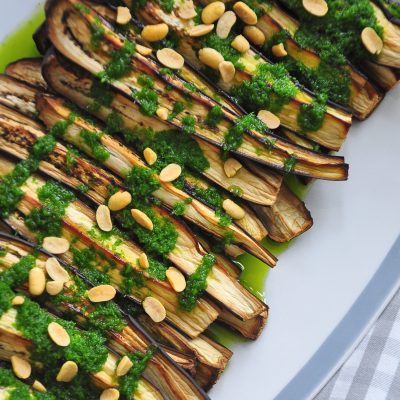 Roasted Aubergine with Pesto
Prep: 5 Mins / Cook: 20 Mins

Serves 6

easy
Ingredients
* Switch between cup/oz and g/ml in Account Settings*
Baby Eggplant

Baby Aubergine

6

6

Table Salt

Table Salt

1 tsp

1 tsp

Extra Virgin Olive Oil

Extra Virgin Olive Oil

1 tbsp

1 tbsp

Green Pesto

Green Pesto

1 cup

1 cup

Soybean

Soya Beans

50g

1/4 cup

Water

Water

160ml

2/3 cup
Instructions
1.

Wash the aubergine (eggplant), and then cut into long quarters.

2.

Line a baking tray with parchment paper, add the quartered aubergine and then drizzle with oil and season. Put them into the oven 180°C for 20 minutes.

3.

Bring the soya beans to a boil and then cook for 6-7 minutes on a low heat. Then drain.

4.

Once the aubergines are nicely roasted, add to a large dish. Dress with the pesto and soya beans.
Nutritional Information
Calories:


289

Fat:


15g

Sodium:


14mg

Carbs:


32g

Sugar:


17g

Protein:


11g