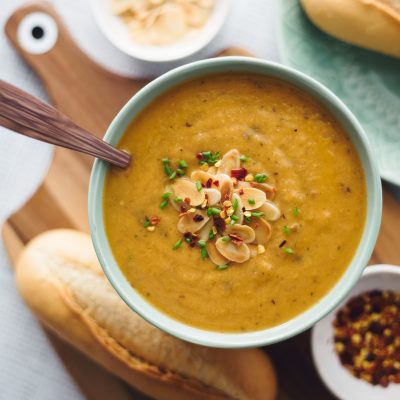 Roasted Aubergine Almond Soup
Prep: 10 Mins / Cook: 45 Mins

Serves 4

easy
This creamy, hearty eggplant (aubergine) soup is a tasty vegan lunchtime option! Roasted eggplants create a rich, smoky flavor, deliciously combined with crunchy almonds and the sweetness from caramelized onion and garlic.
Gluten Free
Dairy Free
Ingredients
* Switch between cup/oz and g/ml in Account Settings*
Eggplant

Aubergine

2

2

Large Vine Tomatoes

Large Vine Tomatoes

4

4

Yellow Onion

Brown Onion

1

1

Garlic

Garlic

3 cloves

3 cloves

Olive Oil

Olive Oil

2 tbsp

2 tbsp

Almonds

Almonds

2 tbsp

2 tbsp

Vegetable Broth

Vegetable Broth

600ml

2 & 2/5 cups

Coconut Milk

Coconut Milk

400ml

1 & 3/5 cups

Cornstarch

Cornflour

1 tbsp

1 tbsp

Coconut Sugar

Coconut Sugar

1 tbsp

1 tbsp

Fresh Chives

Fresh Chives

1 tbsp

1 tbsp

Red Chili Flakes

Crushed Chillies

1 tsp

1 tsp

Table Salt

Table Salt

to taste

to taste

Ground Black Pepper

Ground Black Pepper

to taste

to taste
Instructions
1.

Preheat oven to 200ºC and line a baking tray with parchment paper.

2.

Slice eggplants (aubergine), tomato and onion in half and place on baking tray with unpeeled garlic cloves, drizzle with olive oil and roast for 30min.

3.

Meanwhile, bring vegetable broth to simmer in a large pot.

4.

After 30min, remove vegetables from oven and set aside until cool enough to handle, then peel eggplants and garlic cloves.

5.

Add roasted vegetables to a blender and blend until desired consistency is reached.

6.

Add blended vegetables to pot along with coconut milk and coconut sugar, salt and pepper to taste. Thicken if necessary by adding 2 tbsp of soup and cornstarch (cornflour) to a ramekin and forming a paste, and adding the mixture to the soup. Stir to combine and gently heat.

7.

Toast almonds in a small pan over medium-high heat for 5-10min.

8.

Divide soup between four bowls, top with toasted almonds, roughly chopped chives and chilli flakes, and serve immediately.
Nutritional Information
Calories:


381

Fat:


30g

Sodium:


218mg

Carbs:


28g

Sugar:


16g

Protein:


6g