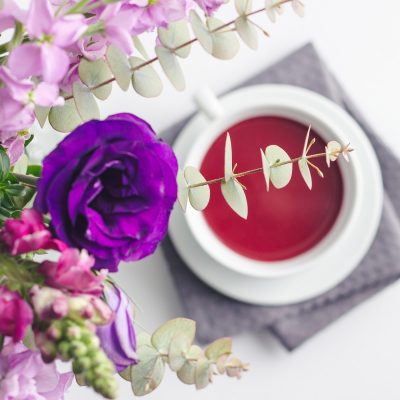 Red Velvet Beetroot Latte
Prep: 10 Mins / Cook: 10 Mins

Serves 2

easy
This silky smooth, nourishing beet latte is a delicious healthy addition to your hot beverage options. Bursting with iron, magnesium and folic acid this gorgeous latte is rich in natural antioxidants to replenish the body. Why not incorporate this reenergising caffeine free latte into your new vegan meal plan!
Gluten Free
Dairy Free
Under 30 mins
Ingredients
* Switch between cup/oz and g/ml in Account Settings*
Coconut Milk Light

Coconut Milk Light

500ml

2 cups

Cooked Beet

Cooked Beetroot

40g

1/5 cup

Vanilla Extract

Vanilla Extract

1 tsp

1 tsp

Sea Salt

Sea Salt

pinch

pinch

Cocoa Powder

Cocoa Powder

2 tbsp

2 tbsp

Coconut Oil

Coconut Oil

1 tbsp

1 tbsp

Maple Syrup

Maple Syrup

2 tbsp

2 tbsp

Coconut Cream

Coconut Cream

1 tsp

1 tsp
Instructions
1.

Place coconut milk, grated beetroot, 1 tsp vanilla extract and pinch of sea salt in a blender and blend until smooth.

2.

Transfer to a small saucepan and warm over medium heat, stirring frequently.

3.

Melt the coconut oil in a microwave or saucepan. Add cocoa powder to coconut oil, mix to form a paste and add to coconut milk mixture, whisk to combine.

4.

Once heated through, pour mixture into two cups and top with coconut cream (optional).
Nutritional Information
Calories:


300

Fat:


20g

Sodium:


183mg

Carbs:


28g

Sugar:


18g

Protein:


2g