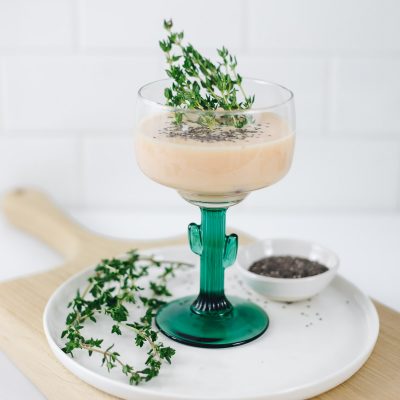 Prickly Pear Citrus Smoothie
Prep: 5 Mins / Cook: 5 Mins

Serves 2

easy
Looking for a delicious hangover cure?! Then say hello to this gorgeously delectable prickly pear vegan smoothie. Besides beating a hangover, prickly pears are a lesser known superfood with fantastic anti-inflammatory, diabetes and cholesterol reversing benefits. Ready in minutes and just 5 ingredients are all you need to create this sweet and subtly tangy citrus smoothie.
Gluten Free
Dairy Free
Under 30 mins
Ingredients
* Switch between cup/oz and g/ml in Account Settings*
Prickly Pear

Prickly Pear

2

2

Banana

Banana

2

2

Coconut Yoghurt

Coconut Yoghurt

180g

3/4 cup

Orange Juice

Orange Juice

375ml

1 & 1/2 cups

Chia Seeds

Chia Seeds

1/4 tsp

1/4 tsp
Instructions
1.

Slice prickly pears in half and scoop out flesh.

2.

Add prickly pears to a blender along with sliced banana and all remaining ingredients apart from chia seeds. Blend until smooth.

3.

Strain through a sieve to remove seeds, pour into two glasses, add some ice cubes and garnish with mint and chia seeds and enjoy!
Nutritional Information
Calories:


357

Fat:


7g

Sodium:


52mg

Carbs:


69g

Sugar:


42g

Protein:


9g