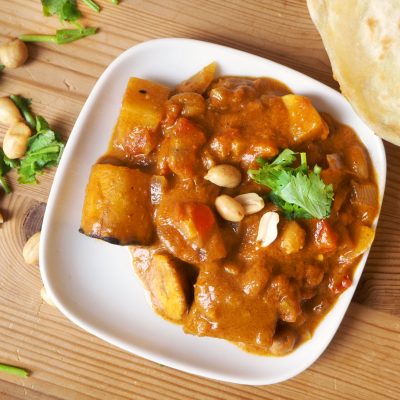 Plantain Peanut Stew
Prep: 30 Mins / Cook: 40 Mins

Serves 4

easy
Ingredients
* Switch between cup/oz and g/ml in Account Settings*
Plantain

Plantain

2

2

Yellow Onion

Brown Onion

1

1

Diced Tomatoes

Chopped Tomatoes

500g

2 & 1/2 cups

Water

Water

300ml

1 & 1/5 cups

Carrot

Carrot

2

2

Garlic

Garlic

4 cloves

4 cloves

Ginger Root

Ginger Root

2cm

2cm

Chili Powder

Chilli Powder

1 tsp

1 tsp

Ground Cilantro

Ground Coriander

1 tsp

1 tsp

Curry Powder

Curry Powder

2 tbsp

2 tbsp

Ground Cinnamon

Ground Cinnamon

1 tsp

1 tsp

Paprika

Paprika

1 tsp

1 tsp

Bay Leaves

Bay Leaves

3 leaves

3 leaves

Granulated Sugar

Granulated Sugar

1 tsp

1 tsp

Table Salt

Table Salt

2 tsp

2 tsp

Peanut Butter

Peanut Butter

2 tbsp

2 tbsp

Peanuts

Peanuts

50g

1/3 cup

Coconut Milk

Coconut Milk

300ml

1 & 1/5 cups

Olive Oil

Olive Oil

1 tbsp

1 tbsp

Pitta Bread

Pitta Bread

4

4
Instructions
1.

Chop the onions, garlic, carrot and ginger into small dices.

2.

Add all the powder spices together, heat a pan and fry them in oil for 30 seconds.

3.

Add onions, garlic and ginger and stir well, let it fry for 5 minutes.

4.

Now add canned tomatoes, water, sugar, salt, bay leaves and carrots and stir. When the mix starts to cook again add the peanut butter and let is blend in before you add the coconut milk and peanuts.

5.

Now reduce the heat to a simmer, and place a lid on the pot. Cook for 30 mins.

6.

Meanwhile peel the bananas and cut them into wedges.

7.

Place the banana on a baking tray and grill in the oven for 15 mins. Don´t skip this step – if you put the banana straight into the curry, they will soften and change the texture and taste of the stew.

8.

Once the bananas have browned a little, remove from the oven and set aside.

9.

By now the stew should have been simmering for 30 mins, now add the banana and cook for a final 10mins.

10.

Serve on white rice or with pita bread.
Nutritional Information
Calories:


509

Fat:


17g

Sodium:


540mg

Carbs:


81g

Sugar:


22g

Protein:


14g