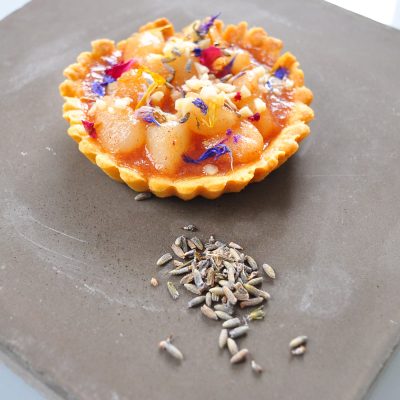 Pear and Lavender Tart
Prep: 30 Mins / Cook: 20 Mins

Serves 6

easy
Cinnamon-sweetened softened pears on a gluten free base, these vegan pear and lavender tarts are as delicious as they are pretty!
Gluten Free
Dairy Free
Ingredients
* Switch between cup/oz and g/ml in Account Settings*
For the dough:

Vegan Butter

Vegan Butter

100g

5 heaped tbsp

Cornstarch

Cornflour

200g

1 & 2/3 cups

Brown Sugar

Brown Sugar

20g

5 tsp

Water

Water

20ml

3 tsp

Table Salt

Table Salt

a pinch

a pinch

For the filling:

Pear

Pear

4

4

Ground Cinnamon

Ground Cinnamon

1 tbsp

1 tbsp

Agave Nectar

Agave Nectar

1 tsp

1 tsp

For decoration:

Edible Flowers

Edible Flowers

small handful

small handful

Flax Seeds

Flax Seeds

3 tbsp

3 tbsp
Instructions
1.

*Note: I used a ridged 6 tartlet baking tray for this yummy dessert.*

2.

For the dough: place the dry ingredients into a bowl with the butter and mix it with your hands until you get a grainy texture.

3.

Now add the water and mix though untill you get a uniform dough. Transfer the dough into a plastic bag and reserve in the fridge for about 20 minutes.

4.

When 20 minutes is up, remove from the fridge and divide into 2 pieces. Stretch the dough onto a floured surface and use a wooden roller to roll it to a thickness of 2mm.

5.

Use a ring cutter to create 6 dough circles. Then grab your tartlet tray, brush the tray with a little oil to avoid the dough sticking as it cooks. Then drape the dough into each of the tartlet moulds.

6.

Prick the dough with a fork and bake in the oven at 200°C for 20 minutes.

7.

Peel and cut the pears into cubes. Place them into a pan with the cinnamon and agave and let it cook for 20 minutes on a low heat.

8.

Once baked, fill the tartlets with the warm pears and use the edible flowers and seeds for decoration. A spoon of almond yogurt is also particularly tasty with this desert!
Nutritional Information
Calories:


339

Fat:


14g

Sodium:


87mg

Carbs:


53g

Sugar:


15g

Protein:


2g