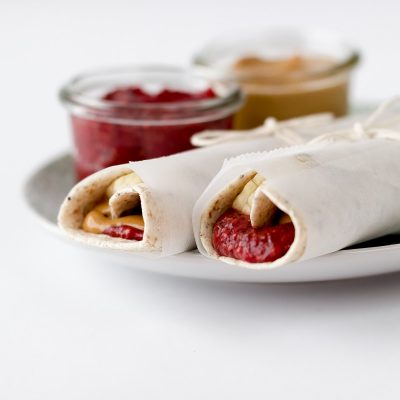 Peanut Butter and Chia Wrap
Prep: 40 Mins / Cook: 10 Mins

Serves 2

easy
Go off the rails and use your tortilla wraps to create a rich and gorgeous breakfast with strawberry and chia jelly, peanut butter and bananas! Devilishly tasty with every bite!
Dairy Free
Under 30 mins
Ingredients
* Switch between cup/oz and g/ml in Account Settings*
Strawberries

Strawberries

150g

1 cup

Maple Syrup

Maple Syrup

1 tbsp

1 tbsp

Lemon Juice

Lemon Juice

1 tbsp

1 tbsp

Chia Seeds

Chia Seeds

1 tbsp

1 tbsp

Banana

Banana

1

1

Unsweetened Peanut Butter

Unsweetened Peanut Butter

2 tbsp

2 tbsp

Tortilla Wrap

Tortilla Wrap

2

2
Instructions
1.

Place destemmed and slices strawberries, and honey and lemon juice in a small saucepan over medium-high heat and cook for 10+min, stirring occasionally, until mixture becomes syrupy.

2.

Allow to cool and transfer mixture to a blender and pulse until desired consistency is reached.

3.

Stir in chia seeds, transfer to a jar with a lid and refrigerate for 30+min.

4.

Slice banana and heat peanut butter (to enable it to spread evenly) and tortillas in microwave for 10+seconds.

5.

Fill each tortilla with ingredients, fold one side in slightly and roll up. Enjoy!
Nutritional Information
Calories:


257

Fat:


11g

Sodium:


7mg

Carbs:


38g

Sugar:


15g

Protein:


6g