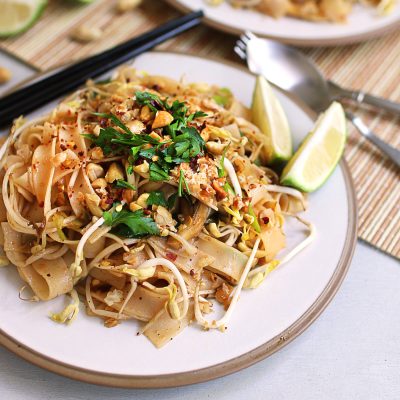 Pad Thai with Oyster Mushrooms
Prep: 15 Mins / Cook: 10 Mins

Serves 2

easy
A tasty, gluten free stir fry dish packed full of flavor. Gorgeous spiced oyster mushrooms served with garlic, peanuts, lime, cilantro (coriander), spring onion and flat rice noodles.
Gluten Free
Dairy Free
High Protein
Under 30 mins
Ingredients
* Switch between cup/oz and g/ml in Account Settings*
Stir Fry:

Flat Rice Noodles

Flat Rice Noodles

185g

1 cup

Spring Onion

Spring Onion

1

1

Garlic

Garlic

2 cloves

2 cloves

Beansprouts

Beansprouts

80g

4/5 cup

Oyster Mushrooms

Oyster Mushrooms

100g

1 & 1/4 cups

Vegetable Oil

Vegetable Oil

2 tbsp

2 tbsp

Sauce:

Granulated Sugar

Granulated Sugar

1 tsp

1 tsp

Tomato Ketchup

Tomato Ketchup

1 tbsp

1 tbsp

Light Soy Sauce

Light Soy Sauce

2 tbsp

2 tbsp

Dark Soy Sauce

Dark Soy Sauce

1 tsp

1 tsp

Lime Juice

Lime Juice

1 tbsp

1 tbsp

Red Chili Flakes

Crushed Chillies

1/4 tsp

1/4 tsp

Ground Black Pepper

Ground Black Pepper

pinch

pinch

Topping:

Roasted Peanuts

Roasted Peanuts

30g

1/5 cup

Fresh Cilantro

Fresh Coriander

6g

2 tbsp

Lime

Lime

2

2
Instructions
1.

Boil the noodles in salted water. For cooking time, minus 2 minutes from the instructions on the noodle's packaging (you don't want to cook the noodles completely as they will continue to cook when stir fried).

2.

Rinse the noodles with ice-cold water and shake through a sieve to remove excess water, set aside.

3.

Mix sugar, tomato ketchup, soy sauces, juice from one lime, chili flakes and black pepper in a small bowl, stir well and set aside.

4.

Cut the spring onions into two parts (green and white), chop them up and set aside, keeping the white and green parts separate.

5.

Heat the vegetable oil in a large, non-stick frying pan, add the minced garlic and fry for 2-3 minutes until the garlic turns slightly golden in colour.

6.

Add the white parts of the spring onions, stir-fry for 1 minute, then add the shredded oyster mushrooms and cook for another 3-5 minutes.

7.

Drop in the noodles, bean sprouts and the green parts of the spring onions and then pour in the sauce mixture.

8.

Stir-fry all until the sauce covers all the noodles equally (speed is key here, you don't want to take more than 3 minutes or the noodles will become too soft).

9.

Top with finely chopped coriander (cilantro) and chopped roasted peanuts, serve with lime wedges.
Nutritional Information
Calories:


488

Fat:


24g

Sodium:


821mg

Carbs:


60g

Sugar:


14g

Protein:


17g