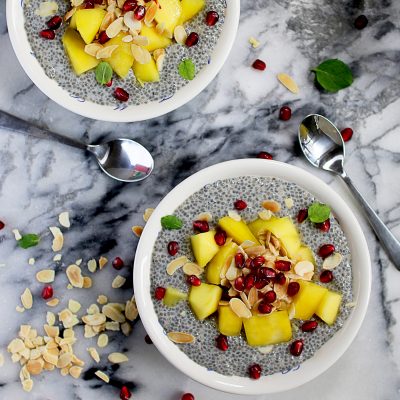 Mango and Chia Seed Pudding
Prep: 5 Mins / Cook: 5 Mins

Serves 2

easy
Ready in minutes, gluten free and rich in vitamin C, this delicious mango and chia pudding is a wonderful morning option for your meal planner! Our tropical bowl of sunshine combines fresh mango, pomegranates seeds, almond flakes, chia seeds and your favorite plant-based milk!
Gluten Free
Dairy Free
Under 30 mins
Ingredients
* Switch between cup/oz and g/ml in Account Settings*
Chia Seeds

Chia Seeds

80g

1/2 cup

Unsweetened Almond Milk

Unsweetened Almond Milk

500ml

2 cups

Vanilla Extract

Vanilla Extract

1 tsp

1 tsp

Maple Syrup

Maple Syrup

3 tbsp

3 tbsp

Mango

Mango

1

1

Almond Flakes

Almond Flakes

20g

1/4 cup

Pomegranate Seeds

Pomegranate Seeds

1 tbsp

1 tbsp
Instructions
1.

*Prepare at least 4 hrs in advance.

2.

Combine all the chia mix ingredients in a large container or a glass jar and place in refrigerator for at least 4 hours or overnight. Stir occasionally during the first hour to help it set evenly.

3.

Divide the chia mixture between the two bowls.

4.

Top with mango, almond flakes and pomegranate.
Nutritional Information
Calories:


426

Fat:


21g

Sodium:


203mg

Carbs:


53g

Sugar:


30g

Protein:


10g